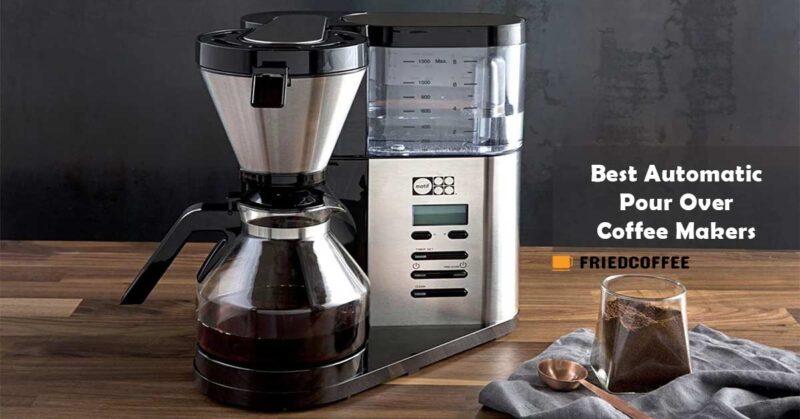 Pour-over coffee has been preferred in the caffeine community among all the best drip coffee makers for centuries now. Being a part of the coffee community has always added elements of quality, delight, and engagement.
But while the human touch brings certain advantages, it also opens up the door for potential errors. Though you might already be familiar with manual pour-over coffee makers like the Chemex, the Kalita Wave, and the V60, there is also an impressive collection of automatic ones. We're here to sprinkle some light on the Best Automatic Pour Over Coffee Makers that are on the top of everyone's list.
The Best Automatic Pour Over Coffee Makers
Coffee for many is an element that will not withstand compromise. However, handing over a pinch of control to a machine can allow you the chance to simply sit back and enjoy your morning cup. Once you've decided to buckle down and buy yourself an automatic Pour Over coffee maker you might find yourself confronted with a hoard of choices. To make things simpler, we've narrowed down a few automatic pour-overs that have caught the eye of every coffee connoisseur around.
1. Technivorm CDT Grand
At the reigns of our list, we have the Technivorm 39340 CDT Grand 60. The basic and dependable design offers everything you need to create a flawless cup of coffee in close to six minutes. Handcrafted in the Netherlands, all the elements of the coffee maker are both BPA and BPS-free. The machine has large water storage and can brew between fifteen to sixteen cups of coffee at a go.
What's Great
The stainless steel carafe is insulated and works to keep your coffee piping hot till you get a chance to reach for it.
If you don't have the patience to wait for six to eight minutes, the coffee maker comes with a drip-stop switch. It allows you a chance to step in, stop the process and pull out a cup before continuing to the end.
The coffee has an auto shut-down feature that powers the machine off if left inactive for more than 120 minutes.
What's Not so Great
The machine is a little heavy on the wallet. Snoop around a little and you'll find other machines that do the same work without hitting your bank quite so hard.
Be careful of spilling when pouring out of the coffee carafe. There is no proper spout and you could end up damaging your countertop.
Why Buy
Comes with a 5-year Limited Warranty.
The individual parts are easily replaceable.
Good-sized water reservoir.
2. Technivorm Moccamaster 79212 KBTS Coffee Brewer
Technivorm Moccamaster 79212 KBTS Coffee...
Perfect Coffee Every Time: This pump-free coffee maker heats...
Easy to Use: The Moccamaster brews a full 32 oz pot of...
Manual Adjust Brew Basket allows you to customize your...
Quality Materials: We use BPA/BPS/BPF and Phthalate free...
Next, we have another offering from the Technivorm family. This time they offer up the Moccamaster 79212 KBTS Coffee Brewer after the enormous success of their Moccamaster 79112. Pressing a pass on the complicated bells and whistles. The machine is easy to work and whips up a cup of coffee between four to six minutes.
Assembled majorly by hands in the Netherlands, the coffee maker has even been certified by the Specialty Coffee Association of America. It's been built with durability and usability as key concerns.
What's Great
The coffee maker has an adjustable brew basket that allows you to pick between three settings. You can control the amount of time the coffee steeps for.
The machine comes with a 9-Hole outlet arm to dispense water over the coffee grinds and ensure even saturation for a better-tasting drink.
What's Not so Great
While there's no denying the coffee coming out tastes good. People have taken offense over the fact that you cannot brew more than eight cups at one time.
The price tag on the machine stands a little higher for the attributes it offers.
Why Buy
Offers up a 5-year Limited Warranty.
The individual parts are easily available if needed to replace.
Auto-off switch to alert when coffee is completely brewed.
3. Breville BDC450SS Precision Brewer Coffee Maker
Sale
Breville steps in next to fill in the third seat on our list with their BDC450SS Precision Brewer coffee maker. If you love tweaking tiny elements to execute your perfect cup of coffee.
This automatic Pour Over coffee maker is just right for you. You can regulate everything from the water flow rate, type of filter basket, coffee bloom time, digital temperature control, and the amount of time the water is in contact with the coffee grinds. You can even oscillate between fruity, bitter, and floral flavor choices. With impressively sized water storage, the machine performs to SCAA standards and can manage up to twelve cups of coffee at once.
What's Great
The novel steep and release feature on the machine allows you to sway between a single mug for yourself, or a carafe full of coffee for a household.
The coffee maker comes with six specialized brewing settings you can choose from. Added in is a special gold mode in case you cannot make up your mind. You have a lot of freedom to pick various brewing sizes and sorts of coffee.
What's Not so Great
While all the knobs and buttons can be a great help, they can at times get in the way and confuse an otherwise simple process.
With great functions comes substantial size. So just make sure you have enough space in your kitchen before you decide to bring the Precision Brewer coffee maker home.
Why Buy
Freedom of choice in brew sizes and types.
Control over individual elements of coffee.
Advanced features.
4. Cuisinart CPO-800P1 PurePrecision Automatic Pour-Over Coffee Maker
Cuisinart CPO-800P1 PurePrecision 8 Cup...
Note: 1)Too coarse a grind, too little coffee, or...
SCAA CERTIFIED: Meets the Specialty Coffee Association of...
FULLY AUTOMATIC COFFEE BREWER: 24-hour programmability, auto...
TEMPERATURE CONTROL: Variable heater plate for temperature...
Following next in the fourth slot we have Cuisinart enter the competition with their CPO800 PurePrecision brewer. Declared the ideal home brewer, the machine ticks all the boxes you would expect.
Anyone who's either participated in or observed coffee being created knows how big a role the coffee bloom plays in the overall flavor. The Cuisinart PurePrecision brewer pre-wets the grinds before brewing in order to make this happen. The machine passes the water used to create your coffee through a charcoal filter before it is used.
It allows you limited control over the strength of the coffee and the temperature of the water used. You also have the freedom to choose between a glass carafe or a thermal carafe. Moreover, about the quality of brewed coffee in a cup, the brewer is certified by the SCAA.
What's Great
The machine can be programmed in a way for you to have your coffee ready at the time you want it in the morning.
With a nod to watching waste, the machine comes with a reusable stainless steel mesh filter. You don't need to spend money or worry about paper filters when using this brewer.
What's Not so Great
The machine only allows you to brew eight cups of coffee at a time.
While it does offer all the basic elements, it falls short of dazzle. The machine offers a classic design and features that have been seen in the past. There is nothing particularly new or path-breaking added in.
Why Buy
Three-year warranty.
Easy to clean.
Charcoal water filter.
5. Mr. Coffee BVMC-PO19B All-in-One Pour Over Coffee Maker
Mr. Coffee BVMC-PO19B All-in-One Pour Over...
Make delicious pour over Coffee at home with the Mr. Coffee...
An integrated auto measure scale automatically calculates...
The temperature controlled gooseneck kettle heats to the...
C1 style brewer allows water to flow evenly through the...
Halfway through our list, we've got a celebrity. Mr. Coffee has been contributing to the coffee community for almost half a century now. They enter our list today with a sleek and classic All-in-One Pour Over coffee maker.
The Mr. Coffee BVMC-PO19B machine is the perfect pick for any novice stepping foot in the world of home-brewing. It will walk you through the entire process of pour-over, one step at a time. The smart design ensures the water will be poured out the spout of a gooseneck kettle providing optimum control. You don't need to stress over proportions either. The machine comes with an integrated auto-measure scale that does all the work for you. It will inform and adjust for the right quantities of all the elements to ensure a quality tasting cup of coffee.
What's Great
The gooseneck kettle is temperature-controlled and will warm the water up to where it needs to be to pull the best flavor out of the coffee grinds.
The people behind the scenes are very aware of how important it is to allow the coffee to bloom while brewing. They set time aside for this step.
What's Not so Great
The machine needs you to use two coned paper filters every time you brew. These are not included in the purchase of the machine. Apart from the building waste, you also need to keep track of the constant cost.
The machine can only brew between two to six cups of coffee at a time. If you've got a bigger bunch of caffeine consumers in your office or home, it will be a longer process.
Why Buy
Easy to follow steps.
Integrated auto measure scale.
Easy to clean.
6. Motif Elements Pour-Over Style Coffee Brewer with Glass Carafe
Motif Elements Pour-Over Style Coffee Brewer...
Specially designed showerhead ensures even saturation of...
Superior water heater ensures ideal brewing temperature
Pre-infusion mode releases the unique flavors of your Coffee
Audible tones indicate when the brewer starts and completes...
Slithering its way into the sixth slot we have Motif Elements with their Pour-Over Style Coffee Brewer with Glass Carafe. The company dug deep into the technical titbits and chemical changes that go behind the scenes in creating a cup of coffee. They then incorporated their understanding into creating this machine.
The brewer offers you everything you really need to create a delicious cup of coffee without hitting your checkbook too hard. The machine allows you the option to brew in advance, so you can have a delicious cup of coffee waiting for you when you wake up.
What's Great
It is a fact that when coffee is not evenly extracted, it can come out tasting a little funky. Luckily the unique shower-head in the brewer ensures the grinds are evenly saturated, which in turn results in a balanced cup of coffee each time.
The pre-soak function wets the coffee grinds for close to thirty seconds allowing them to bloom.
What's Not so Great
While there's no denying the machine offers all that you will need, watch out for the bulky size. Be sure you have the space to store it when not in use before you add this machine to your shopping cart.
While the insulated carafe keeps the coffee hot for a while, the machine doesn't have a hot plate of any sort. If you like your coffee piping hot, it isn't wise to wait for too long.
Why Buy
Easy to clean with an alert to inform when it's time for decalcification.
Light on the price scale.
Insulated carafe keeps coffee hot.
Bonavita Metropolitan 8 Cup Drip Coffee Maker...
SPECIALTY COFFEE AT HOME: Bonavita's stylish and modern...
AWARD WINNING RESULTS: Golden-Cup Standard Coffee Brewer is...
BETTER FLAVOR, FAST: Powerful 1500W heater maintains...
TASTE THE DIFFERENCE: Showerhead and filter basket work in...
Sitting comfortably in the seventh seat is the Bonavita 5-Cup One-Touch Coffee Maker 1901. Bonavita doesn't choose to confuse users with a hundred different knobs and buttons signaling dozens of different functions, instead, it offers a great cup of coffee at the press of a button.
Constructed of strong stainless steel, the thermal carafe holds the coffee hot after it is brewed. The plastic elements part of the machine are all hundred percent BPA-free. The 1901 model came after a huge success they got from the Bonavita 1900TS version.
What's Great
The wide showerhead makes sure the coffee grinds are all evenly soaked. This in turn plays an important role in ensuring the coffee extracts evenly resulting in a better-tasting cup.
The pre-infusion mode allows the grind time for the coffee to bloom before brewing.
What's Not so Great
The coffee maker can only brew five cups at a time. While it is by no means less, it is not ideal if you wish to use the machine in an office setup.
The coffee maker needs you to use #4, cone-shaped paper filter. You're going to need to keep your eye on the waste and mind of the continuous cost adding up.
Why Buy
Light on the price scale.
Easy to clean.
2-year warranty.
You Might Like: Our Favorite 5-Cup Coffee Makers
8. Soulhand Coffee Maker Automatic Pour-Over Style Drip Coffee Brewer
Soulhand Coffee Maker Automatic Pour-Over...
ONE-TOUCH & AUTOMATIC BREW: just press the switch to brew...
CUSTOMIZED 5 HOLES DISTRIBUTED NOZZLE: Simulated hand pour...
DETACHABLE WATER TANK : The general water tank will bring...
MAGNETIC FILTER :The filter is made of precision...
Entering in at the eighth slot, Soulhand offers up their Automatic Pour-Over style Drip Coffee brewer. With a classy and modern finish, the coffee maker offers up a delicious cup of coffee at the press of a button. With this brewer, you have the freedom to brew yourself a single cup, or a larger volume if the need arises. The machine comes with a large five hundred milliliters water reservoir. It is easy to remove and clean. The rest of the coffee maker is relatively easy to maintain. You even receive a spoon brush and 2 cups with your purchase of the machine. The people at Soulhand are pretty sure that you're going to love what they have to offer. They are willing to provide a 100% satisfaction guarantee.
What's Great
The water dispensing nozzle has been interspaced with five holes in an effort to mimic hand pour-over. It ensures all the grinds and evenly and properly saturated.
The magnetic filter constructed of double-layer stainless steel can be removed and easily washed. It is reusable and you don't need to worry about contributing waste through disposable paper options.
What's Not so Great
Unfortunately, there have been a few reports of the coffee overflowing through the filter while it brews. People have been left with some hot wet coffee grinds on their countertop.
Why Buy
100% satisfaction guarantee.
Apply for a replacement if any issues arise with the machine.
Easy to clean.
9. Gourmia GCM3250 Fully Automatic Pour-Over Coffee Maker
Gourmia GCM3250 Digital Touch Pour-Over...
AUTOMATIC & MANUAL MODE: Control pour-over ratio with...
BUILT IN SCALE: Measures the exact amounts of grinds and...
RIBBED WALLS: Filter holder is designed with ribbed walls...
BATTERY POWERED: Makes the machine perfectly portable to...
Nearing the end now with our ninth entrant. The semi-automatic Gourmia GCM3250 Digital Touch Pour-Over coffee maker. The petit sleek coffee maker will offer you the freedom of picking between a more hands-on or automatic approach.
The coffee filter has been designed with ribbed walls to pull more flavor out of the grinds when they brew. The fact that you don't need a power outlet nearby to run the machine, means you can place it anywhere you like. Its size makes it easy to store when not in use.
What's Great
The built-in scale in the machine guarantees a great tasting cup of coffee. It measures out the exact amount of both water and coffee required for a quality cup.
The machine runs on batteries making it easily portable and a good choice for travel.
What's Not so Great
The coffee maker does not come with any sort of water storage.
Naturally, since there is nowhere to hold the water, there is no system in place to heat the water for your coffee. You need to warm the water separately yourself every time you need to brew.
Why Buy
Small and portable.
Very reasonable price.
Safe and ETL-Certified.
10. OXO BREW Single Serve Dripper Auto-Drip Pour-Over Coffee Maker
OXO Brew Single Serve Pour-Over Coffee Maker,...
Brews consistent, flavorful pour-over coffee with minimal...
Auto-drip tank controls water flow for a well-balanced brew
Measurement markings on Tank show how much water to add, up...
Lid retains heat while brewing, doubles as a drip tray
Closing off our list, we have the OXO BREW Single-Serve Dripper. The most cost-effective of all the coffee makers on the list, the dripper is easy to set on a range of different-sized mugs. The water reservoir that can hold up to 12 Oz has clear markings, so you know when it needs to be filled or otherwise attended to. The lid on top can be lifted off and used as a drip tray when the need arises.
What's Great
The dripper has an auto-drip water tank. The tank has a hole pattern that ensures the right amount of water is pouring through at an even flow rate to equally saturate all the coffee grinds.
The sides of the dripper are ribbed. This ensures the water flows smoothly while the optimum flavor is being pulled from the grinds.
What's Not so Great
There have unfortunately been a few reports of some of the holes at the bottom of the tank being clogged or closed. As a result, the water does not flow freely.
Why Buy
Small and easy to store.
Consistently quality coffee.
Light on the wallet.
Add-on Quick Mention – KitchenAid Pour Over Coffee Maker, KCM0802OB
KitchenAid KCM0802OB Pour Over Coffee Brewer,...
Meets the Gold Cup standards of the Specialty Coffee...
Mimics the manual pour over process delivering consistent...
Visual display shows each step of the brewing process, from...
Heats the water to the optimal range of 198°F -204°F at...
This one got missed in our list of best pour-over coffee makers. But after reviewing the product, we thought it should need a mention in the list. KitchenAid is a well-known brand when we talk about kitchen appliances and has some footprints in the coffee equipment as well. We have already talked about its single-serve coffee maker, now it's the Pour Over.
The KitchenAid Pour Over is a certified SCAA brewer that meets exceptional brewing standards. The Visual Display reflects the brewing process with each step being prompted. It has a one-touch brewing option for dark and medium settings. Obviously like other brewers in the list, this one also heats the water to the optimal 198°F – 204°F range for a perfect coffee cup. It is 24-hours programmable and can brew from 2 to 8 cups of coffee at one go.
So, all in all, it is a great coffeemaker that brews nice pour-over coffee. Just one thing we want to point about is its built quality. Most of the people who bought it said that it wears off quickly and doesn't last more than 18-24 months. So, if you are considering a long-term investment, go for something like the Technivorm.
Buying Guide
We're hoping by now, that we've managed to cause a little clarity on the subject matter. However, before you dive into the world of automatic Pour Over coffee makers with your pocketbook, it would be considered wise to go through the checklist below.
Cost
Money matters are always at the top of everyone's mind. For many people, a coffee machine is like an investment. As mentioned earlier, automatic pour-over coffee makers if taken care of properly, and cleaned and maintained well, can last a very long time. Therefore spending that extra dollar on something of quality might not be a mistake. That being said don't be fooled by a lot of shiny bells and buttons. Measure out what you're getting for what you're putting in. And don't get carried away with the show.
Water Temperature
One of the primary elements that control the overall flavor of the coffee is – Look for a machine that regulates the water temperature well. You don't want the water too hot or it will burn your coffee. You should look for machines that offer a range between 196 to 205º F. It is the optimum setting for flawless coffee.
Programmable
How involved do you prefer to be in the creation of your coffee? There are machines in our list that simply require you to press a button. You don't even need to worry about measuring out the quantity of coffee grinds in your cup. And there are others that ask you to pick – How long do you want the coffee in contact with water? How quickly do you want the water to flow? When do you want your coffee to be ready for you? At what temperature should it be waiting?
Whatever your wish, there is a machine to adhere to your needs.
Cleaning
Cleaning up is nobody's favorite thing to do, even if you enjoy it at first. Over time it becomes a tedious task. Look for a machine that has at least a few parts that are removable and dishwasher safe. There are also a few machines on the list that alert users when it's time for descaling, anything to make the process easier.
How is Pour Over different from Drip Coffee?
The perfect cup of coffee is a personal experience. If you ask ten different people what it means to them, chances are, you're going to get ten different answers. One of the many reasons for this of course is that each person would choose to create their cup in a different way. There are almost as many types of construction as there are types of coffee.
And while each apparatus yields a unique advantage, it is common to get muddled over a few. One of the common confusions is how pour-over coffee differs from drip coffee. While there are a lot of tiny elements that tell them apart, it all boils down to the key concept of control. If you invest close to the same amount of money in both machines, the resulting benefits are not the same.
Water Matters
Water is one of the essential elements that go into creating a coffee. Naturally, how the water is treated impacts the taste and texture of the coffee. In pour-over coffee makers, for instance, you always have a hold over the temperature of the water you pour over onto the coffee grinds.
A drip coffee maker might not offer you too much freedom in that arena. Moreover, in a drip coffee maker, the temperature does not stay uniform throughout the entire brew.
The technique with which the water is introduced to the coffee grinds also comes into play. Pour Over coffee makers allow you the option to sway everything from the direction the water is being poured in, to the rate and constancy at which the water drops. Drip coffee makers would not be able to offer anything close to the same control for anywhere close to the same price bracket.
Strength and Longevity
Drip Coffee makers, especially those on the lower side of the price scale, hold a very high turnover rate. They are designed for shorter shelf life. Either the individual elements or the entire machine itself needs replacing every 1 or 2 years.
Pour-over coffee makers on the other hand are usually easy to clean. If treated well, they can even be actually passed on from one generation to the next.
Quality Quotient
Pour-over coffee makers are forever being credited for creating some of the best-tasting coffee. The pour-over method allows you to pay special attention to individual elements that go into a cup. Drip coffee makers on the other hand don't allow you to alter much. A pour-over maker will give you a chance to ensure all the coffee grinds are being evenly and entirely saturated. A drip coffee maker is a laxer in this area. There can be certain grinds over-extracted while others don't see a drop of water.
At the End of the day
Coffee for many people is a key component that decides how the rest of the day will go. While there is a particular kind of joy and sense of accomplishment that comes from grinding and brewing your own coffee, lack of time is the enemy that stands in the way. Automatic Pour Over Coffee Makers is the answer we've been waiting for.
FAQs
What is the ideal grind size for pour-over coffee?

Aim for a medium-coarse grind if you're using a manual or automatic pour-over coffee maker. 

What kind of water do I need to use in pour-over coffee?

It is advised to stay away from tap water when constructing your pour-over coffee. Tap water tends to have minerals that can interrupt and influence the taste of the coffee. While you don't need to go as far as bottled water. Filtered water is the best option.