Embrace the revolution, espresso and coffee making is just one-touch away with Nespresso Vertuo Evoluo Coffee and Espresso Maker. It is dream come true for all the coffee and espresso lovers out there. Creating exceptional café-style beverages were deemed as one of the difficult arts to master, but with Vertuo Evoluo it is just one-touch away! With an extra-large water tank, capsule container and chrome accents, the new Nespresso machine is labeled under Delonghi, that makes amazing range of espresso machines as well. The name as also changed from 'VertuoLine' to simply 'Vertuo'.
Glance on the Nespresso Vertuo Evoluo
Nespresso has a knack of pleasing coffee and espresso lovers all over the world. First Vertuoline came and it was greeted well, but there were complaints regarding coffee being not hot enough. An enhancement was made in the name of Evoluo. If you are looking for a Nespresso machine, than do  have a glance at the all new Vertuoline Evoluo Coffee and espresso maker. It is guaranteed that it'll be worth your time.
Features and Specifications
Grey and black body
Removable tank with capacity of 40 ounces
Naturally formed crema, exquisite espresso, and freshly brewed coffee
Use of Centrifusion technology to fully brew the coffee and espresso
Embedded technology to read bar code for blend-specific brewing
For the convenience of user, one button technology is deployed
Ultra-fast heat up of 15 to 20 seconds
Energy efficient. Turns off after 9 minutes of inactivity
Dimensions (WxDxH) : 9.0 in x 12.2 in x 12.3
Compact Design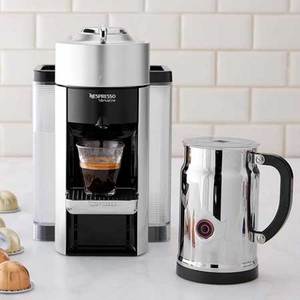 Firstly, imagine having two separate machines for coffee and espresso, and now imagine the space occupied by both machines. Vertuo Evoluo is a combination of two machines and it is designed to not cause any kitchen-space nuisance at all. It can fit anywhere on the kitchen counter and the classy design means that it can be a compliment to any kitchen décor.
One-Touch Brewing System
An exceptional freshly brewed coffee or espresso requires meticulousness, right? This perfectionism is utterly achieved by Nespresso Vertuoline Evoluo with a 0mere touch of one button. It would've seemed unlikely to make instant coffee or espresso a time ago, but thanks to the highly advanced system deployed by Evoluo, it is a reality. The preheating time is 15 to 20 seconds and brewing starts instantly. The machine uses 19-bar pressure system to achieve the maximum high-quality taste. It scans the barcode on the capsules to ensure that only the high-quality nespresso pods are used, capsules of other companies are rejected. The used capsule is automatically ejected after ultra-fast brewing. Whole process ends in a blink of an eye and the end result is an unblemished authentic cup of coffee or espresso. There are more Nespresso machines using centrifusion technology, but this one is among the latest.
Centrifusion extraction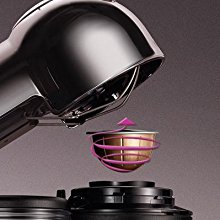 The most distinguishing feature between Vertuoline Evoluo and any other coffee maker is the use of extraction technology. Evoluo is a different breed; it uses patented extraction technology Centrifusion, specifically designed by Nespresso. Once you insert the capsule, it spins around 7,000 times and perfectly blends hot water with ground coffee and Viola, an immaculate crema for your coffee or espresso is created!
Smooth and Rich Taste
Nespresso Vertuoline capsules are sealed to contain freshness and aroma. You'll experience the same aromatic and enthralling taste in each and every single Grand Cu capsules. A seamless balance is an essence to the perfect cup of coffee or espresso, and that balance is attained through carefully selected coffee grounds that are roasted under high surveillance of Nespresso experts. It is guaranteed that every time you'll get to enjoy a delicious and energetic cup of Joe or authentic espresso.
Pros
Precise ingredients are used for a perfection
Ultra-easy to use
No wastage of coffee
Energy-efficient
Capsule container's capacity is of 17-18 used capsules
5 cup position
Cons
You'll have less control over the coffee
You are limited to use coffee pods
A bit expressive coffee or espresso
Overall
If you are a fan of drinking high-quality coffee and espresso without putting in much effort then Vertuoline Evoluo is perfect for you. The model is solid and stylish; quite suitable for your kitchen décor. The one-touch brewer takes care of all the hassle. All in all, it is something that you don't want to miss!
You May Also Like: