Moka Pot brewing is an art every coffee connoisseur likes. It's a relatively simple form of making espresso without interfering much with the technology. Though the taste is not exactly the same as in an espresso machine, but it has it's own mouthfeel.
The Moka pot was invented by Alfonso Bialetti in 1933, an engineer from Yemeni city of Mocha. So city and the name of the engineer clubbed up to name this product which quickly became famous all over the world, especially between the outdoor people seeking some portable coffee maker.
The Moka pot brews by passing boiling water pressurized by steam through ground beans resulting in espresso at the upper chamber of pot. The bottom of the pot is filled with water which than is put on stove for direct heat.
Related – How To Brew Using Moka Pot
At a Glance on the Best Sellers
The Best Moka Pot – Our Favorites
In the market, you can find many similar pots, and so to save you from diving into the sea of confusion, we have picked the best Moka pots that are built with love. You can shop anyone with confidence – just match up your requirements.
#1

Bialetti Moka Press Espresso Maker
Typically, the father of Moka Pot Brewing. Bialletti is a classic one; this Moka Pot offers the traditional experience with updated safety measures and everything you really need. This Pot features an octagon shape, making it classy. It is made out of polished aluminum, making it quite beautiful to look at. Capacity for 3 cups. Stay-cool handles and knob.
<!–noptimize–> <!–/noptimize–>
Sale
Bialletti is the original which was the first invention. The size of 3 is the most common and useful as a large capacity pot might waste a lot of coffee if you have less members whereas with a 3 cup capacity, you can brew multiple times.
The perfectly crafted octagonal design and perfect Italian finish speaks for itself. It can be proudly put in as a centerpiece anywhere. The built material is high grade aluminum, so no corrosion.
#2

Bellemain 6 Cup Stovetop
Bellemain is from New York and is known for it's perfect products. This model is very similar to the first one, and features a more minimalist design. With the same aluminum finish, and the stay-cool handles and knob. This one has a 6 cup capacity and looks extremely traditional and classic. You can buy a 3-cup or a 12 cup too depending on your needs.
The stay cool handle, cool lid knob and safety valve are there to protect your delicacy. The aluminum construction ensures that there will be no metallic smell in your coffee. With price almost similar to the Bialletti, this one is a good pick if you have already tried the previous.
#3

BonIVO Intenca
If you are fed up with the old school designs, go for this one. It is sure to become a centerpiece even if you put it in your living room. With a premium look, it's a classic one to owe. This one features perhaps the best old-school looks you will find in this list.
<!–noptimize–> <!–/noptimize–>
It's made out of stainless steel but with a chrome or copper finish, this Moka Pot looks fantastic. With a 6 cup capacity, it is also quite big and overall this Moka pot is just gorgeous.
Because of it's stainless steel construction, you can even use it with an induction top, which was not the case with the previous two we talked about. Safety valve and cool handle to hold are again a standard in this one too.
Related – How To Make Stovetop Percolator Coffee
#4

Bialetti Kitty Espresso Maker
The first one that features a modern look, and let me tell you, it rocks at doing that. This Bialetti is like the new-age cousin of the first one; made out of stainless steel and with a great ergonomic, heat-resistant handle, this one is another beautiful piece of art. It's available in different capacities, from 2 cups all the way to 10 cups, making this a versatile contender.
This one is made out of stainless steel and so, it can also be used on induction stove. The design is ted different from the traditional Moka pots, it sticks well to female coffee crowd, and that's why, it's named 'Kitty'.
#5

Cuisinox Espresso Pot
This one looks refined. It seems rather French and not Italian if you ask me, and the most classy pots you will find anywhere. Cuisinox brings this Stainless Steel Moka Pot, and it looks just fabulous on any kitchen. Has a capacity of 4 to 10 cups, depending on the version. The Handle is nice, but I instead have those always-cool handles.
Sale
Cuisinox espresso pot is a little costly than all the above we talked, almost double. The reason is high grade built quality. It's made from 18/10 stainless steel. The 18 refers to the chromium content which gives the product the rust resistance properties. The 10 refers to the nickel content which gives it a silver like shine and again some rust resisting property.
#6

DeLonghi ALICIA Electric Moka Pot
The First electric pot in the list. The best thing about electric moka pots is that the machine always measures the heat. You don't have to worry about burning your coffee, and everything is made easy at the same time. Made out of stainless steel, along with plastic and such for the electric section, this is an excellent Moka Pot. And probably, the easiest to use of them all. It can make 3 or 6 cups, depending on what you need. Always-cool handle.
Sale
The equipment comes with a 3-cup or a 6-cup filter which was not with the traditional ones, and so it's a unique feature. Another feature is the keep warm function which keeps the coffee warm for 30 minutes after preparation. The auto off function activates when the pot is lifted from the base, keeping things safe aside.
#7

BeneCasa Espresso Maker
And to finish the list, another electric contender, Bene Casa brings this slightly smaller Moka Pot. It makes 3 cups of coffee, and unlike the previous machine, it has an aluminum boiler. Also with a transparent container, so you can see how the coffee flows to the upper section. Cool-touch handle.
The unique feature of this product is the transparent pot allowing you to see the beautiful process of Moka pot brewing.
What To Consider When Buying A Moka Pot
The Pot Material – From the classic aluminum to the new stainless steel, it taste and what you like better. In my opinion, stainless steel tends to be easier to clean and feels better, but aluminum is classic and looks pretty good as a part of any kitchen.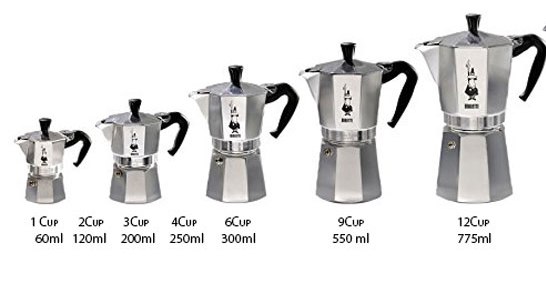 The Pot Capacity – This really depends on each one of us, and the needs we have. How much coffee do you need from each brew? How many people tend to drink coffee at your place? That being said, the capacity tends to be from 3-10 cups depending on different brewer variants.
The Pot Handling – This means how easy it is to use each Moka Pot. And let me tell you, there are some significant differences here. There are some new electric moka pots that are incredibly easy to use. But, they are not as traditional as the basic ones, and obviously, they are not as cheap.
Wrap Up
We hope that the above content has given you good insights about Moka Pot brewing as well as some guidance about buying one. Though, we tried to cover most of the aspects, but still if you think there is something missing, do poke us via email and we will be happy to add that.
<!–noptimize–> <!–/noptimize–>