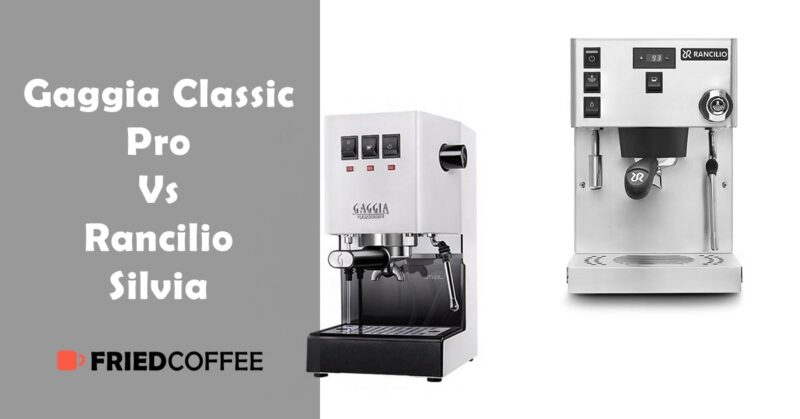 Are you exhausted from spending hundreds just to satiate your taste buds with a hot cup of delicious coffee? One of the best alternatives to this issue is to start brewing espresso drinks at home. Are you asking how that is possible? There are plenty of machines that would help.
Gaggia Classic Pro and Rancilio Silvia are the two best espresso machines that can make the best home espresso drinks. Both have their own set of fantastic features to serve you the best. In this article, you can find a brief on both the espresso machines and a detailed comparison to help you analyze to find the best and most suitable option for you.
About Gaggia Classic Pro
Sale
Founded in 1947, Gaggia is a small Italian company that is an expert espresso and coffee maker. The company provides amazing espresso machines, which are hugely responsible for the prestige associated with crema.
Gaggia Classic pro is the successor model of Gaggia Classic, one of the best entry-level espresso machines of all time. It went over various subtle improvements. This Italian-made machine has numerous compelling features, like the rapid heating boiler, commercial chrome-plated brass portafilter of 58mm, 3-way solenoid valve, latest commercial-styled steam wand, etc.
These efficient features make Classic Pro capable of producing rich, velvety milk foam, perfect for getting the beautiful latte arts. You get a plastic tamper with single and double-shot commercial baskets, a two-way pin, and a pressurized double-shot basket in a Classic Pro box.
Whether you are a beginner or an expert searching for the best espresso machine to get in form, Gaggia Classic pro makes the best home espresso that is more accessible than ever before.
Pros
A large water reservoir
Budget-friendly
Stainless-steel durable body
Cons
Small capacity of the boiler
Not a perfect milk frother
Also Read: Best Espresso Machines Under 500
About Rancilio Silvia
Rancilio Silvia Espresso Machinet,0.3 liters,...
Ergonomic porta filter handle same as the proven design of...
Commercial grade group head for superb heat stability and...
Articulating steam wand offers complete range of motion and...
Classic linear design fits most decors
Begun in 1927, Rancilio company has been creating espresso machines for almost a century now, and it specializes mainly in the higher-quality espressos, perfect for every kitchen. Rancilio Silvia is a recent addition to its espresso machine portfolio with higher energy efficiency and excellent ergonomics.
It features a lead-free, insulated brass boiler which reduces energy consumption by around 8% when in standby mode. It also has an updated power switch with two different lights to indicate the machine and heating element's status.
The machine also ensures a lasting quality and heat retention with a 12-ounce boiler for a tremendous steam capacity, unparalleled by other machines of the same price and size. This espresso frame is made of iron and coated with stainless steel, making it more durable.
Pros
Professionally designed
A boiler with a large capacity
Compact and elegant look
Precisely built
A flexible steam wand
Cons
Drip tray capacity is smaller
Doesn't have a water level indicator
Gaggia Class Pro vs Rancilio Silvia
Gaggia Classic pro and Rancilio Silvia, both espresso machines, are the higher-end, commercial espresso models. But, when choosing any one of the two, how will you analyze the right choice? This comparison will help you find the best suitable espresso model.
Temperature surfing
As you start making your espresso drink, you will understand why there is a need for two different temperatures for the process of milk steaming and brewing. Steaming can be done at around 212 degrees F, but it takes about 200 to 205 degrees F of temperature for brewing.
Thus, if you start with steaming the milk, you cannot instantly start the brewing after that as the temperature will be high enough for it. This is the time when temperature surfing comes in handy. Temperature surfing is the method that eases this required fluctuation and helps gain better control over the entire brewing and steaming process.
Thus, for an espresso machine of higher quality, there is a need to efficiently switch between the two required temperatures for both purposes. Gaggia Classic pro is not always consistent with the brewing temperatures; thus, the temperature surfing in it is essential to be known in advance.
Without access to efficient management of temperature, you might end up pulling shots at varying temperatures. This might adversely affect the taste as the machine warms up for brewing and creates a different taste in the shots.
You have access to control the temperature surfing in Gaggia Classic pro by turning on the steam wand for some seconds as the machine warms up and when you are ready to pull the shot. This helps the boiler cool down slightly and reach the ideal temperature to extract espresso shots.
In contrast, Rancilio Silvia has a difference of 15 degrees F to 20 degrees F in the brewing range. Thus, temperature surfing plays a vital role. You are only required to turn on the brewing button to achieve the same and then run it for 3 seconds to start pulling out hot water into the boiler. Then it would be best if you wait for the orange light to shine up.
About 30 seconds after this step, the light turns off, and Silvia then reaches the optimum temperature required for brewing, which is around 204 degrees F.
Steam Wands
Both Gaggia Classic Pro and Rancilio Silvia have dependable steam wands. But, each of them has different behaviors when it comes to milk frothing. Gaggia Classic Pro's steam wand heats milk to a toasty temperature and creates frothy and thicker foam.
The machine has an innovative manual design that allows you to gain more control over steaming and thus manipulate frothing according to your needs. Rancilio Silvia also contains a commercial wand, making the heating and frothing process more manual than automated.
While considering flexibility, Silvia is unbeatable. But its steam wand only contains one hole that makes the process of milk frothing a bit more challenging.
Boilers
Both the espresso machines have differences in terms of boilers. Classic Pro has an aluminum boiler that weighs 3.5 ounces and has a maximum wattage of 1370W. This is beneficial as aluminum has higher corrosion resistance.
It also has a lower weight and is inexpensive for production, thus ideal for smaller espresso machines like Gaggia Classic Pro. The boiler has a lower volume and higher wattage and can quickly bounce back for making another brew after pulling the shot.
In contrast, Rancilio Silvia weighs 12 ounces and is made up of brass with a total wattage of 952W. This espresso boiler is very powerful when it is about steaming; thus, it allows back-to-back to make several drinks.
ESE Pod Brewing
Easy Serving Espresso Pods are handy gadgets packed inside the coffee pods stuffed with 7 grams of coffee. It also has a paper pocket that is 44mm in diameter and is efficient for the ones who do not have a grinder for their coffee.
It is also perfect for most espresso machines available globally, containing adapters or portafilter accessories for ESE pods. These pods are efficient as portafilter availability is the main requirement that is easily accessible, and generally, the ESE compatible machines have a basket accessory for this brewing mechanic.
Gaggia Classic Pro's portafilter comes with a single-shot pressurized basket for ESE pod brewing. It helps people looking to get a quick and efficient process to make espressos. However, Rancilio Silvia is required to be customized to brew with ESE pods.
In contrast to Gaggia Classic Pro, this espresso machine is not equipped with a portafilter basket for ESE brewing. Some adapter kits are compatible with Silvia and can be installed quickly and affordably.
Pump pressure
For any espresso machine, pump pressure is a significant quality determinant for the shots you can get and the machine's overall performance. It would help if you considered this while choosing the suitable espresso model for yourself.
Gaggia Classic Pro is more preferable as it comes with a 17.5 bar pump that helps to ensure a relatively higher pressure than the 15-bar pump which Rancilio Silvia provides. However, espresso extraction also requires only 9 bars for complete flavor extraction. Therefore, extra 2.5 bars on Gaggia Classic pro might not be adequate to make a huge difference.
Water reservoir
Espressos do not require more water during the brewing process like the other coffee variants, such as drip coffee. This helps you decide that the machine you want has a more extensive water reservoir to reduce the frequency of required refills.
Both of these espresso machines have a big enough water reservoir size, and even the heavier espresso drinkers do not have to go through several refills. However, while comparing the two, Gaggia Classic Pro has a more extensive reservoir than Rancilio Silvia.
Gaggia machine utilizes 72 ounces of the water tank, and Silvia has 67 ounces. In some cases, 4 ounces do not make a huge difference, but in a few, it might. Thus, you must know the requirement well before choosing any of the two.
Used coffee
Even though both the coffee makers provide finer espresso qualities, they still vary slightly about the coffee type. Gaggia Classic pro is designed to ensure versatility. Therefore, with this, you get access to different brew types of pods of various coffee brands.
You can also use the pre-grounded coffee with the 58 mm portafilter. This assures multiple brewing options and choices, making the unit highly flexible. Rancilio Silvia is also equipped with a 58mm portafilter that enables brewing the favorite coffee grounds.
Silvia's only issue is that it is not compliant with a pod, which limits its use to only the pre-ground coffee. With some new models of this espresso machine, you can get an adapter, making it easier to brew with ESE pods.
Hot water dispenser
Gaggia Classic Pro is not only limited to making cappuccino or regular espresso, but it also includes a hot water dispenser to help get hot water whenever required for various needs and drinks. Using this dispenser, you can get hot water for making tea, Americano, or any other drink of your choice.
Due to its enormous water reservoir, you will not face the hassle of quickly running out of water. In contrast, Rancilio Silvia does not include any similar feature, making it imperfect for various users.
Weight
Both the espresso machines have higher capacity, made up of commercial-grade materials. Thus, it would be best if you did not consider them to be more compact and cheaper than the single-serve machines.
Rancilio Silvia weighs 30 pounds, and Gaggia Classic Pro weighs 20 pounds. If you plan to bring in the espresso machine to be used in multiple locations, this difference of 10-pound weight can leave a huge impact. Therefore, as Gaggia Classic Pro is light-weighted out of the two, it is also more compact in comparison.
Dimensions
If you have a wide enough kitchen counter space, this factor might not matter much to you. However, for others who prioritize every inch of the counter space, the espresso machine's size matters greatly. Since Gaggia has a larger water tank, it would also have a comparatively larger footprint than the Rancilio model, but this is not the scenario.
Dimensions of Gaggia Classic Pro are 9.5" x 8" x 14.2" and that of Rancilio Silvia are 9.2" x 11.4" x 13.3". This means that the Gaggia espresso machine will be a little taller, and the Rancilio espresso machine will be narrower.
Which espresso machine is best for whom?
Based on various differentiating factors, including the water reservoir, boiler capacity, used coffee brand and type, and others, they are perfect for different users.
For coffee lovers looking forward to updating their older espresso machines and getting a more powerful one without spending much, Gaggia Classic Pro is the perfect option. Gaggia model is also ideal for people who want an espresso machine capable of delivering good shots while requiring lower maintenance.
In contrast, Rancilio Silvia is perfect for more seasoned users looking forward to monitoring their espresso shots and having a larger budget to invest in. It's a little professional-grade and is also often compared with Breville Barista Express.
Also Read: Breville Barista Express vs Rancilio Silvia.
The Bottom Line
Both Gaggia Classic Pro and Rancilio Silvia are durable, have smoother performance, and are dependable. However, it is essential to understand that these espresso machines are preferable for beginners or intermediate-level baristas. They serve as the perfect learning and training tools and require a bit of practice and determination to learn to operate them. Moreover, both the machines are excellent and have higher quality models to serve any coffee lover.
Related Posts