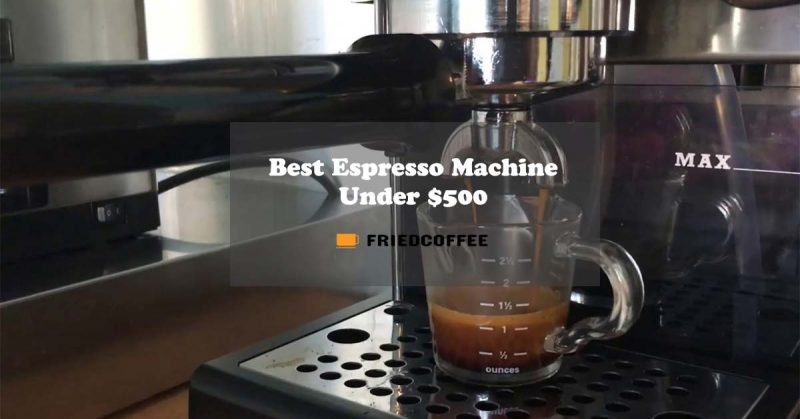 Espresso is one of those things that every coffee lover can at least admit is wonderful. While espresso has a strong taste and makes a great base for other coffee-based drinks. Making it requires really specialized equipment, unlike regular drip coffee, which can be literally made with a fire and a pot.
As experts, we can completely confirm that the biggest drawback of the espresso is the extra added cost that comes from a good espresso machine. Also, of course, you can find super cheap machines that won't prepare this drink properly and you will end up with a bad quality strong coffee.
This is why we have prepared this guide, we want to show our readers that espresso machines can be cheap and a great investment. Long gone are the days where the only proper espresso machine was worth over a thousand bucks.
Join us on this trip into the market and choose the best espresso machine for under $500 with our buying guide.
Top Rated Espresso Machines Under $500
#1

Breville BES840XL Infuser
Breville brings us this amazing espresso and cappuccino maker at $500. The BES840XL meets exactly the amount we are looking for, but during sales and also with some other colors (from the 3 available: Black, Raspberry and Silver Steel) you can find great cuts in price.
Breville's coffee maker is an expensive choice within our guide, topping the budget, and that's why we will see a few other options. However, this espresso machine will cover your needs and give you a great service so we believe the price is well worth it.
The Italian brand is famous and very respectable, they offer good customer service and care about quality, so we have no issues recommending them.
Here is a list of some of the features:
Temperature control
High dosage for a full flavor
Steam wand for perfect cappuccinos
Intuitive controls but also precise extraction is available
Sale
Breville BES840XL/A the Infuser Espresso Machine
Pre infusion function applies low water pressure at the start of the extraction...
1600 watts thermocoil heating system with integrated stainless steel water coil...
Auto purge function automatically adjusts water temperature after steam for...
#2

Breville Duo Temp Pro
Another Breville option but this one is a slightly cheaper version. However, this espresso machine doesn't disappoint, and for the price tag of below $400, it is a great choice.
This one comes only in stainless steel, but also includes the steam wand for cappuccinos and most of the features from the previous option. This one is only a little bit smaller and has less capacity and output, also, the control options for the extraction are more limited.
However, this little Breville machine is still of the highest quality and will surely not disappoint. A perfect choice for someone looking to spend around $400.
Precise extraction
High dosage for a full flavor
Steam wand for perfect cappuccinos
Intuitive and simple controls
Sale
#3

Calphalon Temp IQ With Steam Wand
This little Calphalon beast is slowly becoming one of the customer favorites for the price range and quality. For the price, you will get a premium machine that can compete with the best brands out there and still be one of the best options for the price.
The controls are intuitive and extremely simple, with a single dial for settings and a button to turn on the machine. Simply one of the most elegant options out there.
With Thermoblock heating technology and a precise temperature controller, with an included pre-infusion feature, the extraction is flawless and makes an excellent shot of espresso.
Here are some of the key features:
Thermoblock heating technology with PID temperature control
Pre-infusion system
Steam wand for cappuccinos
Simple and easy-to-learn controls
#4

Nespresso by De'Longhi EN560S Lattissima Touch
This gorgeous machine by DeLonghi uses the famous Nespresso pod system to bring amazing espresso shots without any hassle. For a price around $300 on sale (which is almost always), is it an excellent choice when looking for an espresso maker.
It also includes the milk reservoir on the side to automatically foam and serves the milk inside the cup. Nespresso is one of the kings of convenience and if you value this aspect, then this could be a perfect choice.
This particular model is extremely classy, with some white creamy touches on top of a brushed aluminum finish.
In the end, you cannot go wrong with Nespresso and DeLonghi, making this a great contender for that sub $300 mark. And if you are worrying about the recurring costs of Nespresso pods, you can save much by using some compatible brand capsules or the reusable ones.
Nespresso pod system
Automatic milk frother
Easy to use and convenient
Easy to clean
Sale
#5

Nespresso by Delonghi Vertuo Evoluo
The new Nespresso pod system "Vertuo" brings more quantity without sacrificing quality, increasing the size of the pod to bring a double shot espresso. The Evoluo by DeLonghi is a great option when it comes to Vertuo options.
Now the drawback of this Nespresso machine is the lack of a frother, so if you like cappuccinos, you will need the Aeroccino. The machine has the spot built-in so there is no problem in that regard.
One major advantage, however, is the amazing price, which turns this machine into one of the best bang-for-the-buck in this list. You can also buy it in a package, which includes the Aeroccino, for that amazing milk frothing ability, and also some coffee pods.
The new Vertuo system stays classy while bringing amazing double espressos or even Altos, which are up to 10 times the size of regular espresso shots.
Nespresso Vertuo pod system
Versatile sizes of espresso
Convenient
Easy as it gets to clean
Sale
#6

Gaggia Classic Pro
The Classic Pro from Gaggia is one of the "expensive" options within our list, reaching the price around $449, it doesn't leave too much room in the budget. However, this machine will be more than your regular coffee maker.
The steam wand included will also allow you to froth without issues and with a professional touch. The brushed stainless steel finish is classy and it really turns this machine into a shower.
We would say this machine is great for home but it can be a bit overkill for some, it could be even enough for small cafes.
The controls are easy to use and fairly straight-forward, while the rest of this machine is just made to last and to manage huge workloads.
Commercial level
ESE pods or ground coffee system
Dual mouth for two cups at a time
Steam wand
#7

Breville BES500BSS
Coming back to Breville, the BES500BSS is something of a middle point between the two we already reviewed. This one comes much below $500, leaving some room for our budget, and also has one of the best sizes in the whole guide, making it compact and comfortable to use. It also includes the steam wand that most of us love, which is to be expected at this price point.
This machine includes the same features from its cousins, like the improved dosage for perfect flavor, temperature control with PID and the pre-infusion system.
The steam wand on this Bambino Plus is actually a hands-free system so you only have to put your carafe under the wand and let it work.
This little machine is convenient and easy to use, featuring simple controls that literally will take seconds to learn and of course, it's easy to clean.
Hands-free milk frothing
Temperature control
High dosage for a full flavor
Extremely simple controls
#8

Delonghi Dedica Deluxe
DeLonghi is another great brand that makes coffee machines, as we've seen with their Nespresso variations. This one is a really nice machine, hitting the middle ground of our budget. It comes in 3 colors: black, silver and white.
This machine is just comfortable, it's convenient and easy to clean, with only a 40-second heat-up time and the frother works like a charm.
The design is one of our favorites since it helps with space management and it really fits almost anywhere, considering how powerful this machine is.
Using the Thermoblock technology we know how fast this machine can work and it honestly just works and is a great option for the price.
High-quality milk frother
Easy to use and clean
Simple controls
Great heat-up time
Sale
DeLonghi America, EC685M Dedica Deluxe Espresso, Silver
15-bar professional pressure ensures quality results every time, and adjustable...
Whatever your preference – single or double espresso, cappuccino or latte...
The premium adjustable frother allows you to adjust the foam and steam levels to...
#9

EspressoWorks 7
The EspressoWorks machine is really impressive since it includes a lot of different accessories and a great machine merely under $250, leaving a lot of room in our $500 budget. What really is great about this machine is that it includes a coffee bean grinder, a milk frothing cup (for the steam wand attached to the machine) and even 2 cups.
We can honestly say that for the price if you want to get into grinding your own coffee and making espresso from that, this is one of the best choices out there. You won't break the bank and you will have everything you need to start making amazing espressos and espresso-based drinks.
It's easy to clean and the controls are simple, with Thermoblock technology, that allows it to be ready to use in only 45 seconds. This machine includes everything and is really a great "bang for your buck".
Accessories, like a coffee grinder and cups.
Steam wand and frother cup included
Easy to clean and easy to use
Great price
Sale
#10

Gaggia Brera
The Gaggia Brera is a wonderful premium machine that will almost reach our budget, costing a fair below $500. It offers great design and high-quality in all aspects. It has a ceramic grinder included, so if you are into brewing from whole beans, this is for you. As we expect, it includes a steam wand for that amazing microfoam and it can be loaded from the front, allowing us to put it against a wall without having to move it.
The controls are simple and intuitive, while the screen tells you everything you need to know with easy to understand icons.
This machine can be used in small cafes because of the great capacity and it really is amazing for those that drink a lot of coffee, but it could be overkill for drinking 1 cup a day.
Steam Wand
Ceramic grinder in the machine
Front-loaded
Easy to use and clean
The Guide
Now that we've seen the best espresso machines for under $500, we will go through the process of buying one, or rather, choosing which one is the best for us. This way you will be completely sure of your purchase and won't make any mistakes. To achieve this, we will go through several categories that you must consider before buying an espresso machine, explaining each one.
Things to Consider when Choosing Espresso Machine Under $500
Size
The size is rather important when choosing a machine. You shouldn't buy something too big that you have no room for, and you shouldn't buy something too small for, let's say, commercial use.
The space you have available for your machine will limit your choices and you should take this into account as soon as possible.
Some machines are rather large and can be too annoying to place in a small kitchen or counter, especially when the machine will only make 1 cup of coffee a day when it's designed to make 200.
The size and capacity of the machine should not be overlooked, don't overspend on a machine that you just won't use.
Materials Used
The materials from which the machine was built are important since high-quality materials will look better and last longer. Also, another point that most don't think about, is how clean the materials are. Sure the brushed steel looks amazing but it will need constant cleaning to keep that sharp look.
Of course, durability is the most important aspect of this category, since stainless steel will be way more resilient to pretty much everything than, for example, plastic. Let's say you accidentally hit your machine with something and it cracks. Sure it may not ruin it, but it's not as good as plain strong materials.
Ease of Cleaning
This is just a quality of life aspect that we cannot ignore. Cleaning a machine can either be a godsend or a dealbreaker, it really depends on how much time we can spend on this and how willing we are to do it. Some professional machines require a lot of cleaning and maintenance, but why get into this if we can meet our needs with a simple pod machine. Usually, automatic machines will just be easier to clean and overall will require less attention but have less control over the customization of the coffee. To make it simple, choose the machine that meets your needs, not only the coffee ones but also the maintenance ones.
Machine Features
This is quite obvious, but the features that some machines offer can be just way too good and may be worth the extra cost. However, this can also be bad in some other way, since usually, the more features you get, the more expensive it is.
Our recommendation is simple: don't pay for features you are not gonna use, because most likely a cheaper machine will do exactly what you need. But also make sure that you are buying something that offers enough, especially for the price. You may find a machine that costs the same but has more features included. Just keep an eye out for this one.
Ease of Use
Simplicity and convenience are quite important nowadays. Most people are always in a hurry and don't want to go through a lot to get their morning coffee, while others just wanna have control over every single step of the process (this is related to the next category as well).
So choose wisely, if you want coffee fast and easy, choose something with simple controls and easy to use. If you want to go "full barista" and control every aspect of the way, ease of use may not be as important. It really depends on what you want.
Automatic vs Semi-Automatic Type
This goes hand to hand with ease of use, because automatic machines feature the most hand-off experience, making everything easy for the user. While semi-automatic will allow you to control some factors that otherwise would be automated. This is again something that depends on the person, so make sure to choose what you want and what you need.
FAQ
Is spending $500 on an espresso machine too much?
Not at all, if you like good coffee, you will need a good machine, and $500 is not exaggerated, but as you will see on our guide, you will also find some fine choices below that price point.
What's the best espresso machine for under $500?
The best espresso machine will be the one that fits your needs like a glove should fit your hand, therefore choose wisely.
Conclusion
Buying a good machine makes all the difference when it comes to espresso, therefore we can recommend all these and thousands of customers can do as well. Choose wisely, exactly what you want and what you need. Don't overspend on something you don't need but also don't cheap out on features you want. This guide led you through the process of purchasing the best espresso machine for under $500, and we hope you enjoyed it as much as you will enjoy your new machine.
Recommended Reads