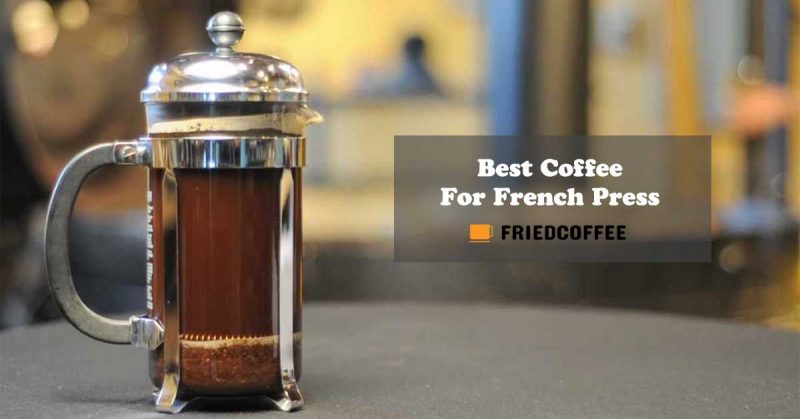 With so many methods to brew coffee, French Press coffee maker is still one of the praised methods due to complete manual control over the process. It's still one of the favorite brewing method for many coffee connoisseurs.
To get the best flavor out, you must have good beans with proper grind. And for a French Press, a medium to coarse size is the most appropriate which is normally not available in the market. So, it's best to use your own grinder at home to have the perfect grind for this method.
You can find a great ground coffee in the market that does well in espresso machine, but don't expect that it will work equally in brewing with a Press. The coffee available in the market is too fine and it tends to pass through the mesh filters of a Press resulting in numerous coffee sediments in the cup.
The flavor will also suffer as medium or coarse grind give a much brighter flavor in Press brewing. So, we suggest buying the best beans from the market and grind them at home. Following are few of the flavors that work better in French Press brewing.
Tips For Brewing With French Press
Try to buy the most freshly roasted coffee. So always buy from reliable coffee roasters that roast their beans fresh.
Grind just before brewing to ensure the most out of the beans. The best is to grind coarse because it aids maximum water surface area to extract the most flavors out.
Always dual check that you have cleaned your french press so that the old smell doesn't mixes up with the fresh brewing.
Do not buy pre-ground coffee, you won't get good or full flavors from that.
Use a burr grinder and a good french press to avoid hiccups in brewing process.
#1

Exotic Peaberry Gift Box
Well, Peaberry coffee is one of the most appreciated type, we have a whole bunch of them here. The bunch contains four 16 ounces packs – Tanzania Peaberry, Guatemala Peaberry, Malawai Peaberry and El Salvador Peaberry.
Volcanica coffee company is one of the largest importers of coffee beans that grows coffee in volcanic regions heighted 3000 feet above. The coffee is Organic, Fair trade and Rainforest Alliance certified. It is packed in a beautiful satin box tied with a ribbon, so it can also be a great gift for a coffee lover.
#2

Ethiopian Yirgacheffe Fresh Roast Coffee
A list without an Ethiopian coffee is actually incomplete as Ethiopia is the birthplace of coffee. This product is a single blend medium roast coffee that has mild body and is roasted in small batches. It grows in Kohcere at a height of 5900-6550 feets. The small batch roasting results in fresh beans delivered to coffee fanatics.
Sale
The cupping notes will result in mild Lemon and Honey flavors. The coffee is 100$ Arabica and has no additives, flavors or preservatives added giving you a pure batch always.
#3

Starbucks Breakfast Blend
Starbucks is into the coffee industry from long and within so many products, there are some amazing products to go for. One of their specialties is Breakfast blend, and it's a medium roast giving rich and smoother flavors. It has lively flavor with slight hints of being citrus.
Overall, this blend is a great start to kick up your day. The quality control and bean selection is at par with Starbucks.
#4

Death Wish Coffee
If you are not a normal human being and need a heavy kick to wake up, Death Wish might be perfect for you. It's claimed to be among the strongest coffee on the globe with almost double dose of caffeine than in a normal cup.
The coffee is Fair Trade, USDA Certified Organic and Kosher that obviously gives hints for a quality coffee. It's obviously a dark roast, but only buy, if you can really deal with it.
#5

Koffee Kult Dark Roast
Our second Dark roast and strong coffee is the Koffee Kult. It's a 100% gourmet coffee that is carefully picked and served with quality standards. It's a blend of beans from Colombia, Guatemala, and Sumatra.
The coffee will not result in bitter flavor, but will be less acidic, good for health conscious people. Koffee Kult is a family owned business and have their own artisan roasters that are very well maintained. They welcome anyone to look at their process for complete clarity.
What kind of Beans go in a French Press
Usually, people go with medium to dark roast as the steeping process in the method reduces the bitterness in darker roasts.
What is the best Grind for a French Press
Coarse grind is best for French press brewing as it allows maximum water surface area for extraction process.
Why French Press coffee is better
In drip brewing, much of the oils from coffee beans are soaked in the filter whereas in French press, there is no such filter and even some grounds stay in the brewed coffee that percolates flavors resulting in a better flavor.
Why French Press coffee is bad for you
Well, in this process, the coffee is actually unfiltered coffee that contains some oils. Too much of that oil results in raised LDL cholesterol bad for your health; according to an article by Harvard. Just limit your intake to max 4 cups a day and it's alright.
Does coffee from French Press raises LDL
Unfiltered coffee contains bad cholesterol LDL which is not good for health. Just drink within 4 cups a day and that will be alright.
Wrapping Up
So , the above were some of the very best coffee beans for French Press brewing. Although, everyone has their own taste preference and that's why we have picked above the vivid varieties to help everyone pick their best.
Recommended Reads