Getting a nice hot brew of coffee each morning is a great way to start your day. If you particularly like a coffee brewer that makes the brewing process simple and fast, the Bonavita BV1800 coffee brewer is worth considering. It promises a hot brew within 6 minutes and can keep your coffee hot for up to 2 hours. There are two variants in this series, the BV1800 and the BV1800SS. Both are same and the only major difference is the carafe. Here we'll be talking about BV1800 which is supposed to have a glass carafe and a warming plate.
Glance On The Bonavita BV1800
Before getting into the specific details about the Bonavita BV1800, it's worth mentioning the major differences between it and its sister. The BV1800 has a glass carafe; is slightly smaller and less expensive. The only differences between both are the thermal carafe that keeps the coffee hot for longer span, slightly larger size of BV1800SS (10.75″ x 6.25″ x 12.25″) and no heating plate as it's already provided with a thermal carafe. However, both coffee makers' main design features are more or less the same and they both are the ideal and best drip coffee makers.
Features and Specifications
Brews up to eight 40 oz cups of coffee
One touch brew operation
Showerhead design ensures optimal flavor extraction and complete saturation of grind
1400W heater heats water fast and maintains it at ideal temperature of 195⁰ to 205⁰F
55W heater with auto shut off keeps brew warm for up to 2 hours
Glass carafe
Cord Storage below the machine
All plastic parts are BPA free
Carafe, lid and filter basket dishwasher free
Measures 10.50 X 6.50 X 12.00 inches
Minimalistic But Efficient Design
The Bonavita BV1800 isn't built to show off dozens of features many of which are useless to the average coffee lover. It doesn't have fancy LCD displays, several controls and other built in features that you'll spot in many of the new coffee makers. It only includes features that you'll need each time you brew a fresh mug of coffee.
This coffee maker's minimalist design has several advantages. One is that it makes the coffee maker smaller which is something many homeowners with limited counter-top space need. Another advantage is that it makes this coffee machine easier to operate, clean and maintain. Operating this coffee maker only requires placing your fresh coffee grind in the filter and closing the lid, adding the desired amount of water to the tank and pressing the on/off button. Within a few minutes, you'll have fresh coffee ready within the glass carafe. Finally, having fewer features also means that this coffee maker isn't too expensive although it can brew high quality coffee similar to what you'll get from high end machines.
Get A Perfect Brew Fast with BV1800 Each Time
Many coffee lovers who prefer to make their own brews are usually fussy about the quality of their brew in terms of temperature, flavor strength and aroma. It has to be perfect. So, if you're one among them, the BV1800 by Bonavita is worth investing in. It's showerhead allows to evenly spread the water over the grounds which is considered to be the main aspect for optimal brewing.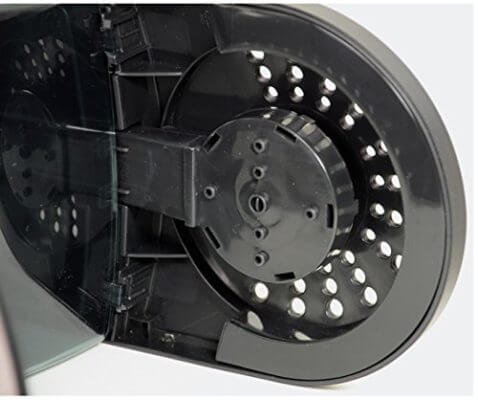 As mentioned, it doesn't come with features such as coffee strength adjustment and auto on. However, it makes up for this in a unique way. If you're particular about the amount of flavor and aroma that's transferred from your coffee grind to your brew, you're likely to prepare the grind right before brewing. The BV1800 by Bonavita is designed for this routine since without the auto on feature; you won't be tempted to leave your grind inside the filter overnight.
The easy to fill water tank is clearly calibrated to make it easy to measure the exact amount of coffee you want to prepare. A 1400W heater raises the water temperature to 200 to 205⁰F which is ideal for coffee brewing. It's only when this temperature is reached that hot water flows through the showerhead and into the filter extracting as much flavor as possible before draining into the thermal carafe. This process takes about 7 minutes to complete. If you decide to prepare for work while the BV1800 brews your coffee, it will keep your fresh brew hot for up to 2 hours thanks to a separate 55W heater placed underneath the glass carafe.
Easy to clean and maintain
One of the major advantages of owning a minimalist coffee maker is that it's easy to clean and maintain. Broken down, the BV1800 consists of the heater, water tank, lid, filter basket, and glass carafe. It only has the on/off switch so you don't need to worry about having to learn about complex settings. The carafe, filter basket and lid are dishwasher safe. Also, the body is easy to clean using a damp cloth as being made from stainless steel and small plastic.
At this point, it's worth noting that the BV1800 doesn't come fitted with an internal water filter. This means that the possibility of scale buildup within the unit is quite high if you use hard water to brew your coffee. Using softened water to brew coffee is advisable as it will help to keep your appliance in perfect working condition.
Pros
Compact space saving build
Excellent coffee flavor and aroma extraction
Fast coffee brew time
Glass carafe gives you quick glance of coffee levels
Inexpensive
Keeps coffee hot for up to 2 hours before automatically shutting off 55W heater
Easy to operate, clean and maintain
Cons
Water tank is not removable
You can only pour your brew after the brewing process is complete
Glass carafe needs extra special care to prevent breakage
Conclusion
It's no secret that the Bonavita BV1800 will appeal to a specific market segment. Unlike many coffee machines which try to appeal to anyone that's interested in brewing their own coffee, the BV1800 if more focused towards people who appreciate quality brews prepared through an unsophisticated process. So, you won't need to make any special configurations every time you want a fresh brew. Also, you won't have to worry about the water being too hot or a bit cold thereby affecting the brew quality.
The only issue we found with this coffee maker is the glass carafe. But rather, it's great that it allows you to view your brew levels and will keep your coffee hot longer, thanks to the heater placed beneath it. However, even though its dishwasher safe, you'll need to take extra care handling it. You may switch to buy BV1800SS, if glass carafe is a worry as it replaces the glass carafe with the stainless steel carafe.
Overall, the Bonavita BV1800 is a quality, simple drip coffee maker that comes at a good price range. Also, it can be straightly comparable to Oxo On and Technivorm Moccamaster with perfect aspects. If you want a coffee machine that doesn't complicate the brewing process and manages to prepare perfect brews every time, this machine is worth investing in.
Recently, Bonavita BV1900 is launched with a few changes compared to the BV1800. It has a curved water reservoir as compared to the rectangular shaped in the 1800. Also, the 1900 comes with a 1500W heater to do the heating processes quickly and efficiently.
Recommended Reads