If you cannot fully function without morning coffee, and you hate standing in long lines at Starbucks, then all you need is a quality coffee maker. There are many different variants of coffee makers available in the market. French press coffee makers have made a name for themselves for their simplicity and more control over brewing. Bodum is one of the best brand in manufacturing great French Press coffee makers and here we are reviewing a one of their top sold model, Brazil.
Bodum Brazil French press coffee maker stands tall among the others. It takes out that enthralling taste of coffee that can brighten your every morning. The first ever designed coffee maker by Bodum is perfect for people who love to start their mornings with an energetic cup of coffee. Most people are budget conscious as it's a product consumed daily, so it's good to think about it for long run.
Review | Bodum Brazil French Press
Bodum Brazil is one of the most sold coffee maker after Kona. Let's have a look at some alluring features of Bodum Brazil French Press Coffee Maker:
The Quality of Taste
Coffee lovers never compromise on taste,and the Brazil lived upto the expectations that people have from Bodum. It makes a strong set of coffee that is free from that bitterness and acidity that you get from a drip coffee maker. For a low price, it works exactly like the expensive presses, and the taste is phenomenal.  It makes a cup of coffee that is immaculate.
Body
Beaker: The beaker uses premium quality ultra-light and heat-resistant borosilicate glass. It ensures that the reliability and durability remain intact for years to come.  The glass beaker won't smell of various flavors used over time, and the carafe is easily washable.
Handle and Base: Resistant thermoplastic polymer,polypropylene, makes the handle and base. The plastic framework safeguards the unit from any accidental damage.
Lid: Polypropylene (PP) plastic is used for the lid so that the coffee can be sealed properly. The lid ensures that the aroma of coffee remains for hours. The lid also makes it certain that coffee doesn't escape from the top of the container or splashes while you are pressing the mesh filter down.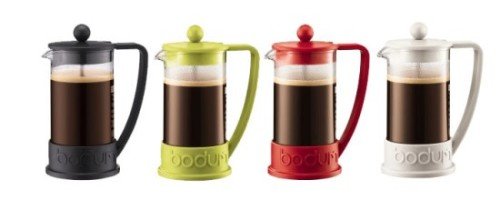 Color: It comes in 4 colors: Black, lime green, white, and red.
The Plunger
There is a well-constructed 3-part stainless steel mesh filter used. The three parts are:
A knob
A metal rod
A mesh filter
The use of special mesh filter that consists of three parts makes it certain that no coffee grounds make its way into your cup of coffee. By pushing the mesh filter down, all the coffee ground stays at the bottom of the press.  You get a perfect cup of coffee each time. There are chances that some ground may enter your coffee at the end of the press, but that will only happen if you try to get the last drop of coffee from the beaker.
Plastic used in all the filter parts from the shaft to the handle is barely minimum to keep the parts at place and also it is BPA free. The major use of stainless steel guarantees safety and durability.
Easy to Use
It is easy to use – all you have to do is to put coffee grounds in the beaker, pour hot water in it (wait for 2-4 minutes), and press the plunger. You can prepare your hot cup of coffee in 5 minutes if you have everything ready on your platform.
Price
There is a perception that quality comes at a price, and though it is true in most cases – Bodum tried to defy that by designing a coffee maker that is affordable. It is perfect for people that are love with the smooth sensation of a hot coffee – and too for a low price!
Pros
It is quite cost-effective as compared to expensive presses that are available online and in the market
It is dishwasher safe
The product is available in variety of colors
It makes rich, smooth and full-bodied coffee every time
It is reliable
Cons
The use of outer plastic parts questions its durability
The beaker glass cannot withstand the hot boiling water that you will be pouring into it. The glass container cracks if the water is too hot or overly heated. Use an electric kettle or a thermometer to keep the water under desired temperature.
Conclusion
Bodum Brazil French Press Coffee Maker makes a hassle free coffee. The low price means thatyou will be getting a strong cup of coffee for a lot less price than the expensive coffee makers in the market.  A little care would do no harm to you, and it would definitely increase the durability of Bodum Brazil French press coffee maker. All in all, it is a wise choice to go with it!
You May Also Like: