Acquired by the group Philips, Saeco is a reputable brand among the Coffee industry. There are many options by the brand, but Which is the best Saeco Espresso Machine, is always a dilemma for a new buyer. Everyone has distinct requirements and that's why there are options in this world. One has to merge his requirements with the features to find the best solution. If you are looking for a Saeco Coffee Machine, we have already reviewed Top Espresso Machines from this brand to ease your selection process.
Best Saeco Espresso Machine Collection
#1

Saeco Xelsis Evo

The Saeco Xelsis Evo is a well rounded espresso brewing system, offering the perfect balance of convenience, versatility and simplicity. An automatic cleaning cycle keeps all internal components clean and fresh, while an easily removable brew system allows for quick and easy cleanup. A control dial allows you to choose the texture and strength of your espresso shots, ensuring that you create the perfect beverage each and every time.
Features and Specifications
Dual chamber milk carafe. The dual chamber technology of the Xelsis Evo milk carafe means that you can enjoy coffee shop quality milk foam in your lattes or cappuccinos.
Fast heating. With a double boiler this model is able to get water piping hot almost instantly.
Automated maintenance. The Saeco Xelsis Evo is completely self cleaning. Designed to automatically de-scale and clean the system when turned on or off, this system guarantees a fresh, clean taste each and every time.
Simple clean up. The brewing mechanism is easily accessible and removable, allowing for a quick rinse inbetween drinks to ensure perfect quality every time.
Stainless steel construction. The clean, crisp stainless steel construction of the Saeco Xelsis Evo offers a durable and attractive design, making this a perfect addition to any contemporary kitchen.
Adjustable shot settings. A control dial allows you to adjust the steam pressure used to brew your espresso, providing custom espresso strength and texture.
Adjustable coffee grinder. An 8 setting coffee grinder enables you to determine the richness and boldness of your espresso shots. Additionally, the ceramic grinders mean you will never have the burned taste that can come with metal grinders.
Set-Up
The milk and water reservoirs need to be filled, as does the bean hopper. Once the Saeco Xelsis Evo is filled and powered on, the easy to read interface will walk you through setting up the grind and foam options, ensuring you make the perfect beverage right from the start.
Cleaning and Maintenance
The easily removable drip tray and brewing system make cleanup quick and easy, requiring only a quick rinse after every few uses. The milk reservoir is also easily removable and simple to clean. An internal cleaning cycle runs automatically each time the unit is powered on or off. The interface will prompt and walk you through the de-scaling cycle when necessary.
Warranty and Repairs
The Saeco Evo is supported with a 3 year warranty. A free lifetime maintenance program is also provided, guaranteeing optimal performance for the lifetime of this unit.
The Result
The Saeco Xelsis Evo is an exceptional choice for anyone who wants to bring their favorite coffee shop experience into the comfort of their own home. This model offers a full range of brewing and frothing options, allowing you to make any drink imaginable.
Pros
The dual chamber milk reservoir creates the type of milk froth you find at your local coffee shop.
An easy to read interface will help you to produce the perfect beverage every time.
Cons
Beverage temperature is reported to be lukewarm at times.
The tiny size of the grounds drawer means frequent emptying is required.
#2

Saeco HD8753/87 Philips Intellia

The Saeco HD8753/87 Philips Intellia is an excellent choice among the best Saeco Espresso Machine picks.The people who want a blend of simplicity and versatility are going to love it. The small, sleek design makes this a perfect model for smaller spaces. Despite its smaller size, the Intellia is fully programmable, providing customized espresso strength and milk foam to create the perfect beverage each and every time.
Features and Specifications
Ceramic grinder. The ceramic grinder in the Intellia ensures the best tasting espresso, preventing the burning flavor that metal grinders can produce.
Sleek design. The compact design of the Intellia enables it to fit into the smallest of spaces—perfect for kitchens with minimal space.
Quick heating. Saeco's quick heat boiler technology means that there is no wait time before the machine is ready to use.
Dual chamber milk carafe. Perfect milk froth is guaranteed each and every time thanks to the dual chamber design of the milk carafe.
Customizable programming. Not only can you program the Intellia to provide you with the perfect espresso and milk foam, but you can save your settings, enabling you to get your favorite beverage with just a single press of a button.
Versatile grind settings. The full range of grind settings allows you to ensure the perfect richness and texture of your espresso shots.
Easy cleanup. The brew system is not only easy to remove, it is easy to clean. A quick rinse is enough to remove residue and get back to making drinks. The drip tray lifts out easily, needing only a quick rinse to be good as new.
Set-Up
An easy to read display will help you customize grind and brew settings to help you make the perfect drink the very first time. Just add water, milk and coffee beans and you are ready to go.
Cleaning and Maintenance
Automated cleaning and de-scaling cycles ensure that the internal components of the unit are always clean and maintained in this machine. The easy to remove brewing apparatus makes cleanup quick and efficient, requiring only a simple rinse to remove any residue. Additionally, the convenient drip tray can be easily removed for a quick rinse or to air dry after use.
Warranty and Repairs
The Saeco HD 8753/87 Philips Intellia comes with a standard Philips 12 month limited warranty.
The Result
The balance of simplicity and versatility makes this an ideal choice for anyone who wants to bring the coffee shop experience into their home without committing to a large, complicated brew system. The Intellia is perfect for a small home or office.
Pros
The Intellia has a compact design, enabling it to fit easily in even the smallest of kitchens.
The boiler system heats quickly, significantly reducing wait time for making your beverage.
Cons
The low capacity water reservoir requires refilling after every 2-3 drinks made.
A small brew area limits the size of cup that can be brewed directly into.
[Read more about Saeco HD8753/87 Intelia One Touch]
#3

Saeco Poemia Espresso Machine

A sleek, ergonomic unit that is fully manual are few attributes of the Saeco Espresso Machine, Poemia. It's perfect for anyone who prefers to be in total control of pulling shots and steaming milk, this unit has no computer interface at all. The stainless steel design makes the Poemia as durable as it is stylish, ensuring many years of consistent, reliable performance.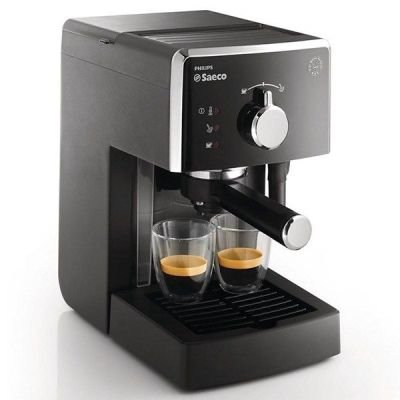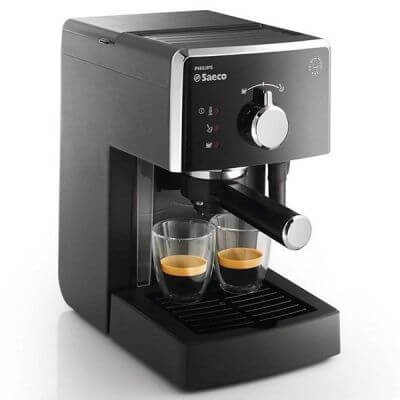 Features and Specifications
Brewing versatility. The Poemia comes equipped with a portafilter that can use either ground espresso or pre-packaged coffee pods. This is ideal for office environments where pods are cleaner and more convenient.
Professional pressure. The Poemia's 15 bar water pump creates the pressure needed to produce the same quality espresso shots that you get at your local coffee shop. This pressure will also provide the steam you need to make perfect milk foam for your latte or cappuccino.
Easy to use steam wand. The steam wand will enable you to create the perfect milk foam each and every time. A simple wipe with a damp cloth is all the cleaning it needs. The wand also provides piping hot water for tea, hot chocolate or instant soup.
Sleek design. The compact design of the Saeco Poemia makes it compact and efficient, ideal for places where space is tight.
Ergonomic design. The portafilter handle is shaped for ideal comfort, preventing your hands from cramping when making several beverages. Additionally, every element of the Poemia is designed for comfort, efficiency and ease of use.
Cup warmer. The top of the unit doubles as a cup warmer, using the heat from the boiler to keep your drinks warm. Pre-heating cups on the cup warmer will help enhance the quality of the beverages made.
Set-Up
The simplicity of the Poemia means that setup is as simple as adding water, plugging in and turning on. As there is no computer interface, absolutely no programming is required.
Cleaning and Maintenance
With this machine, cleanup is rather quick and simple. The portafilter needs only to be rinse clean, and the easy to remove drip tray just needs a quick rinse every now and again. The stainless steel construction means that a quick wipe down with a damp cloth is all that is needed to clean and polish the Poemia.
Warranty and Repairs
For peace of mind, the Saeco Poemia comes with a standard Philips 1 year limited warranty.
The Result
The Saeco Poemia is the perfect choice for anyone who enjoys the process of brewing shots and steaming milk. With a sleek, ergonomic design, the small Saeco Espresso Machine, Poemia will fit into the smallest of spaces, which is an ideal point for any home or office. The fully manual nature of this unit will bring out the inner barista in anyone with some practice.
Pros
The compact design is perfect for small spaces.
The ergonomic design makes this unit comfortable to use.
Cons
The fully manual nature of this machine means that you have to perform every function in real time.
This machine is only a good choice for someone who has some experience as a barista as every aspect is fully manual including coffee grinding, tamping and milk steaming.
Any of the machines stated above can be said as the Best Espresso Machine collection by Saeco. These have great performance record and you can find many happy users. For the quality provided, these machines are very feasibly priced and are in affordable price bar. However, consider looking at our Best Super Automatic Espresso Machine Collection which includes the best picks from best brands. This might ease you in making the decision and will also give a glance on more options to consider.
Summary
Article Name
Best Saeco Coffee Maker Collection
Description
Best rated coffee makers and espresso machines from Saeco.
Author
Publisher Name