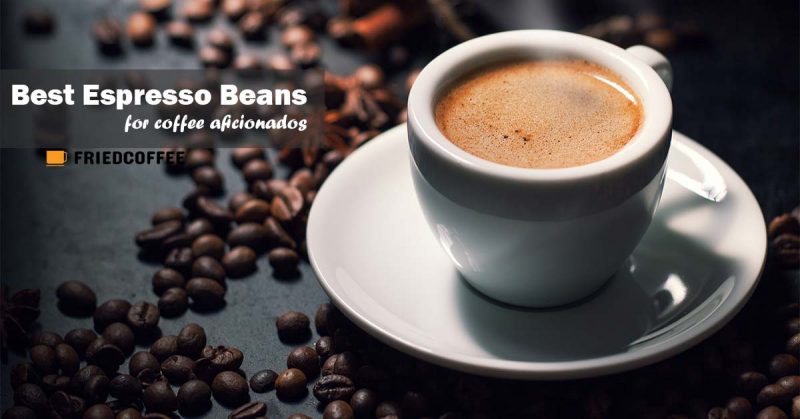 Espresso is an art; and to make it perfect, one has to put the basics right. The right beans, the right roast than the perfect grind and after that at last, the espresso machine. So, with just the perfect gear, you won't get the best drink, but rather with the right combination of everything.
Beans roasted for espresso in particular are roasted longer than usual so that the various oils in the beans are brought to the surface. All these attributes add to the taste of your espresso drink. Espresso is a coffee that is made by forcing a small amount of nearly boiling water under pressure through finely ground and compacted coffee beans.
A fresh cup of espresso should be a creamy explosion to the taste buds but the taste depends actually on your beans. Even having an expensive automatic espresso machine doesn't means you are sure to have a great cup. Rather, one must be careful about choosing the right espresso beans. Below are the few which we really like.
What Makes the Bean An 'Espresso Bean'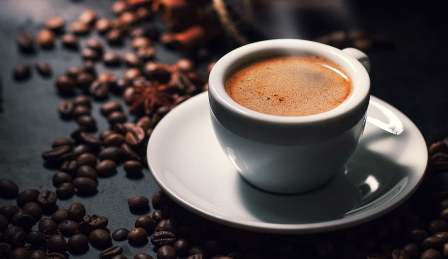 The coffee beans are actually all the same at start. The process is what, that actually makes the results different. The beans undergo roasting, than grinding and after that they undergo the process of extraction involving high pressure and heat.
So, a bean can be said as an espresso bean when it can compliments this kind of drink. Coffee and espresso can be made from the same kind of beans, but for an espresso, the beans are roasted longer than the usual and than they are fine grind for the extraction process. Most of the espresso beans will be Arabica with medium to dark roast for a strong flavorful cup.
The reason behind the beans being medium to dark roast is to prevent the espresso coffee from being sour. The coffee to water ratio in espresso extraction is around 3-to-1 and so, the the brew doesn't gets as hot as in other methods resulting in under extraction and sour flavor. This is why, we need medium to dark roast beans to prevent under extraction and sour flavor of espresso.
Buyer's Guide – How To Find The Right Beans
Don't worry as we won't give you a big bunch of explanation to pick the right espresso beans. Instead just focus on the following parameters when buying the beans-
Roast: The most preferred roast for espresso coffee is from medium-dark to dark roast. The lighter roasts result in weaker and sour espresso shots.
Whole vs Ground Coffee: If you don't want to grind or don't have a burr coffee grinder at home, get the ground coffee or else go for whole beans. The whole beans are preferred because grinding just before brewing advances your coffee experience as the oils and aroma doesn't fades away.
Packing Date: Try to buy the beans as fresh as possible. The best way to get freshest espresso beans is to shop from a local roaster. If that's not possible, check the packing date to be between 2 weeks to 2 month at max.
Arabica or Robusta: Obviously Arabica beans, as they are the better when we compare them from Robusta.
Single Origin or Blend: I personally prefer single origin as that tends to actually tell you as which origin produces what kind of coffee whereas blend become permutations and combinations resulting in numerous combinations and the whole life to try every taste. That makes the topic very complex, so I suggest to be easy with single origins.
Origin: This single attribute changes many characteristics of coffee beans. The reason behind is different temperature, climate, soil, exposure and water. Everything has a contribution and so the results are different. Like say, the coffee from Asia has rich and delicious texture; African beans are complex with fruity flavors; whereas North and South American beans are sweet and simple in flavors. We suggest to read more about origins, and try each one to get closer to things practically.
The Best Espresso Beans For Coffee Aficionados
#1

Koffee Kult Dark Roast
Origin: Colombia, Guatemala, Sumatra
Roast: Dark
Koffee Kult is a blend of finest Arabica beans with dark roast; best for manual or semi automatic machines with heavy and smooth cupping notes.
Experience the another level of espresso with the blend made from the best coffee beans all around the world. Koffee Kult is the finest selection of Arabica beans from the best coffee growing regions all around. You are going to experience smooth heavy body cupping notes with a hint of cinnamon. These are dark roast, so be sure to have less acidity.
Sale
The beans used here are full bodied, smooth and rain forest friendly, so that we can help our nature too. The beans are Artisan Roasted, which ensures that we receive only the quality product. Also, these are roasted in small batches and that too just before packaging so that there is not much of difference between the packing date and roasting.
#2

Lavazza Super Crema Espresso Beans
Origin: Central America, Brazil and Indonesia
Roast: Medium-Dark
Lavazza is great pick for people who love mild smooth and balanced taste, and are into making milk based drinks that involves adding whipped cream and other fancy material.
Another great pick for a great tasting espresso is from Lavazza. The mild Central American beans are blended with sweet Indonesian beans and than the Brazilian beans are added make the resulting drink smooth. All in all, Lavazza super crema is a balanced batch of beans with full rich taste that is naturally sweet and creamy.
No products found.
These are Medium Dark roast which makes them less oily, and a perfect fit for super automatic espresso machines. If you are a fan of specialty drinks like Latte or Cappuccino, try this and your will be a die hard fan. These are rich dark brown in color and have excellent aroma, if you love to smell your coffee.
#3

Kicking Horse Cliff Hanger Espresso
Origin: Africa, Indonesia, Central & South America
Roast: Medium
Don't hang with suspense, try the Kicking Horse Cliff Hanger to get you out to action with it's Silky and Complex wild berry syrup tasting notes; aroma of brown sugar and milk chocolate.
Blend of pure Arabica beans from the house of Kicking horse that is Organic, Kosher and Fair Trade certified. The beans are picked carefully to give you an amazing coffee experience. If you use a super-automatic, than this one is great to go as you have lesser oils with medium roast that doesn't clogs the machine.
Kicking Horse Coffee, Cliff Hanger Espresso, Medium Roast, Whole Bean, 2.2 Pound - Certified...
MEDIUM ROAST, WHOLE BEAN: Bright, fruit & cocoa, heavenly. Get a grip on this...
TASTING NOTES, BREW METHOD: Silky and complex, wild berry syrup with a smooth...
ORIGIN AFRICA, INDONESIA, CENTRAL & SOUTH AMERICA: Grown in a socially and...
Kicking Horse has long been in the coffee business from years and really knows what it takes to produce great tasting blends. If you are a die hard coffee lover, then you might already have tasted the various blends from this brand. If not, than do it man, you still have to gain the coffee experience.
This blend is a nice pick as espresso beans and is equally good as french press beans.
#4

Cafe Don Pablo Gourmet Signature Blend
Origin: Colombia, Guatemala and Brazil
Roast: Medium-Dark
For people obsessed with love for aromatic beans in balanced and smooth coffee cup with some natural sweetness!
If you are looking for something delightful, go for this Signature Blend by Cafe Don Pablo. It's an amazing coffee for those looking for low acidity and and smoother taste. Because of natural slight carmalization, it has a natural flavor with a little sweetness and it's pleasant after taste.
The beans are slow roasted in small batches to ensure optimum taste on brewing. The resulting brew will have balanced aroma with hints of milk chocolate and cedar. The overall finish is very smooth and cocoa toned.
#5

Cafe Don Pablo Subtle Earth
Origin: Honduras
Roast: Medium-Dark
For people in love with chocolates, caramel and hints of honey are going to love it. It's a smooth and full body bean with deep aftertaste.
With an amazing customer service and utmost care to beans, this single origin Arabica bean is a deserving pick in our espresso beans collection. These beans are grown in the Marcala region known for it's fertile soil and high elevation. The coffee is roasted medium high, so that it remains in low acid content levels.
It's organic, has full body, with deep rich chocolaty flavor. The most dominating notes of this coffee are honey and chocolate. You might also get a hint of hazelnut, but very mild. The aroma is surely going to wake you up from the bed.
#6

Peet's French Roast
Origin: Latin America
Roast: Dark Roast
Great for people obsessed with strong and bold espresso tongue and who love woody burnt smoke.
Peet's French Roast is crafted specifically with espresso in mind. It has a bold flavor that is rich and complex. It has a hint of bitterness in the first sip that is replaced by a mixture of exploding tastes. One of the things that makes Peet's coffee great is that over the past four decades they have stayed true their original principle of producing coffee; fresh beans and superior quality.
Sale
And by roasting their beans using highly skilled roasters instead of computerized roasting to ensure the highest quality and consistency achievable they get a tick in our book. From then till now people have been falling head over heels in love with this brand for the simple fact, they just produce fantastic coffee. Peet's French roast has a stout body, with hints of wood smoky and burnt caramel.
If you like your espresso flavorful and potent, Peet's coffee might be the one for you. Some people have a preference for coffee that isn't as strong with such an intrusive taste in that case this might not be the coffee for you. This coffee was very flavorful and our taste buds danced to the tune of quality coffee.
#7

Illy's Ground Espresso Coffee (Grounds)
Origin: Guatemala, Brazil, Colombia, Ethiopia, India, and Costa Rica
Roast: Medium
Beans sourced from 6 different channels finely picked and blended to create a delightfully distinct taste that is perfectly balanced.
If you found Peet's to be a little too strong another great choice for espresso coffee is Illy's Ground Espresso Coffee. Made with 100-percent Arabica coffee, Illy has become associated with excellence. Arabica coffee is known to make milder, less bitter coffee.
Caffeine itself has a bitter taste and Arabica contains less caffeine than any other commercially cultivated species of coffee making some believe Arabica is better tasting in many ways. This coffee is finely ground to provide optimal extraction. This espresso coffee is available in two roasts, medium roast and dark roast as well as decaf. Tastes are smooth, rich and never bitter.
Their is also a variety pack by Illy that might be tested to find the correct coffee that your taste buds prefer. You can even give this as a gift for a coffee lover. This pack consists of 2 pack of Dark Roast and 2 Pack of Medium Roasted Beans. It's 100% Arabica and is mouth lingering.
No products found.
#8

Ruta Maya
Origin: Mexico
Roast: Dark
Certified Organic Shade grown Arabica coffee that is grown with Mayan culture and is perfectly roasted for standards.
Ruta Maya is a very delicate yet concentrated roast having an effortless chocolate flavor. This espresso bean is also made with Arabica beans, shade grown and handpicked. Well balanced and delicious. Unprecedented richness derived from ancient growing techniques coupled with gentle roasting to extract ultimate depth and flavor. This coffee has a distinct taste full-bodied smooth flavor.
Its earthy taste is refreshing and a Ruta Maya espresso is certainly something to look forward to in the mornings. After having a Ruta Maya espresso you are sure to know the difference between shade grown coffee and sun grown. You should definitely try this espresso coffee bean it's amazing! The taste is truly rich.
#9

Lavazza Qualita Rossa
Origin: Brazil and Africa
Roast: Medium
Last on our list is of course another delicious brand and nothing short of quality as the others mentioned. Lavazza Qualita Rossa has a reputation of being one of Italy's favorite coffees and who could blame them. it is evenly roasted and carefully ground, this coffee is a velvety blend of 45-percent African Robusta Beans and 55-percent Brazilian Arabica beans.
Now that's an interesting mix. This blend of beans produces mouth-watering goodness. This brand is identified with quality and for over a century has not wavered in their passion for producing unimaginable fantastic coffee. Some even say this is what coffee should taste like. We say a Lavazza Rossa espresso was something close to heaven.
#10

Bean Box Gourmet Dark Roast Sampler
It's a 6-month subscription by the Bean Box that sends variety of 4 roasts every month in gift package. You'd be free for 6 months of coffee beans buying task. The variety includes top notch roasters in the Seattle's area which is freshly roasted just before the shipping. You are going to enjoy single origin beans as well as perfectly crafted blends too.
Every month you'd be experiencing a batch from different roasters with 'How to Brew Perfect' instructions marked on the packages. So you'd travel much of Seattle's Cafes without stepping out from the comfort of your home.
Roasting Beans for Espresso
Do take into note that if you are roasting at home, than for an espresso, the bar of medium to dark roasts is preferred. The reason behind the use of dark roasts is they have the lowest acidity and the most natural oils that helps in the formation of crema, that amazing yellowish brown layer on the top. The also have the full body for yet stronger taste of espresso.
Sometimes, few machines get clogged by the use of dark beans because of the presence of more natural oils. To avoid this, switching to medium-dark or medium roast beans is a better alternative. It will give some more flavors of beans with mid range acidity.
Grinding Beans for Espresso
Grinding the beans to the perfect size for espresso is another most important aspect that should not be taken light. Though in practical, it's not the same size that fits all as grind size depends on machine as well as the preferred taste of the drinking person. So we conclude the grind to be fine like a mix of powdered sugar and fine beach sand, but do bear in mind the following points –
Grinding too fine can block the filter as it would start passing through it
Grinding a little coarse would block or slow the pushing of water through grounds that creates crema resulting in an under extracted espresso
All in all, read the manual of your espresso machine as that details a lot of things, and after that experiment in the fine settings to get the desired cup of espresso.
Wrapping Up
There are many espresso beans and brand out there; these are just some of the brands we enjoyed. In addition to finding the right espresso bean for you, you might want a few tips in storing your coffee beans. It is very important to keep away from moisture, light, air and heat. This will ensure that your coffee is kept fresher longer. An air-tight glass or ceramic container is preferable and should be kept in a cool, dry dark place.
Recommended Reads