When you think of camping, you may think of waking up to instant coffee or "cowboy coffee" with the grounds slowly sinking to the bottom of your cup. If you're a coffee connoisseur, you'll be glad to know that there are  Camping Coffee Maker and so you don't have to suffer through your morning brew, even if you're backpacking in the wilderness! There are plenty of options in the  Outdoor coffee makers category, whether you're making coffee for a crowd at a picnic or just brewing a cup for yourself and your significant other.
With a little practice, you can even make yourself a decent latte with powdered milk. The key is to mix it with a couple of tablespoons of cold water (or even better, canned milk) before you add the hot water. It only gets that "powdered milk taste" when you mix it directly with hot water. Toss in a tiny whisk for frothing, and you're all set. To make creamer for coffee, mix equal parts of powdered milk and cold water.
Of course, camping means different things to different people. Some people may be hiking or canoeing to their site, while others are RVing or car camping. You may or may not have electricity or a propane stove.
Best Camping Coffee Maker Collection for Backpacking
No matter how you camp, as long as you can heat water, you can make excellent coffee for yourself and your friends. Here are some of our favorite coffee-making products for the great outdoors:
Oxx Coffeeboxx Single Serve Portable Coffee Maker
If you've got an outdoor event, picnic, or group camping trip coming up, this machine could be your solution to providing coffee for everyone. This is also a popular choice for RVers. It's designed to be rugged enough to travel where you need it.
Features and Specifications
Takes 3 different cup sizes
Sand proof; water, dust and crush resistant
85 ounce water tank
Separate hot water outlet for tea and instant soups
K-cup compatible
The above machine simply depicts the strength of this product. With the hot weather coming, you may find yourself planning for a big outdoor event of some kind. The Oxx Coffeeboxx can be used anywhere that has an electrical outlet to provide coffee and hot water for a large number of people. The interior tank holds 85 ounces, which means you can make more than 10 cups before you have to refill it. When you turn on the machine it is ready to brew in less than 2 minutes.
The Coffeeboxx is built with travel in mind. If you have a rough road between your house and your cabin, this machine will stand up to quite a bit of knocking around in your car. Some customers have commented that inside of the machine is not quite as robust in construction as the outside, but most are more than happy with this machine to have coffee while camping.
Coleman Camping Coffee Maker
This is an auto drip coffee maker that is designed to work with a propane stove instead of using electricity. It can be used with a Coleman stove, as well as on other types of camp stoves (provided it fits over the element). This gadget can be seen in many Backpacking coffee maker list.
Features and Specifications
10-cup glass carafe
Works with 2 or 3 burner Coleman camp stove
Uses basket filter
Pause-and-serve function
If you're looking for the same coffee experience you get at home with your drip coffee maker, you'll love this Coleman machine. With its 10-cup carafe, it's also a good choice if you are camping with a group.
The manufacturer claims that you can brew a full pot in 10 minutes. In reality, it depends on what kind of stove you have and how hot the burner is, so you might find it taking as little as 7 minutes or as much as 20 minutes. Not bad for roughing it!
Best of all, almost all reviewers agree that this camping coffee maker produces really good-tasting coffee.
Handpresso Auto Espresso Camping Coffee Maker
Imagine a great cup of espresso with this Handpresso Auto anywhere at the top of hill or at home. You just need a 12V cigarette lighter socket to give this gear the power.
Features and Specifications
Attractive and Sleek Design

Water reservoir capacity: 1.79 fl.oz (53 ml)

Fast Brew Cycle of 2 minutes
Quiet Operation
Uses ESE Pods and Ground Coffee Both
Handpresso Espresso Auto is a revolutionary gadget that makes premium espresso on the go. The machine looks completely of modern age and features a temperature gauge, a power button and a release button. Making a shot is pretty much straight forward: Top it off with filtered water, tamp the finely grounded coffee into the included Domepad , lock the lid and switch it ON and you are done. A great gadget to have if you mostly travel alone or with one or two guys as it produces one shot at a time. It is best compatible with ESE pods and doesn't creates much mess.
MSR MugMate Coffee/Tea Filter
What could be simpler than a little individual reusable filter that sits inside your coffee mug? If you like pour-over or French press coffee but are short on space in your bag, consider this option.
Features and Specifications
Plastic structure with stainless steel mesh
Brews a single serving of coffee or tea
Lid doubles as drip tray
Weighing only an ounce and taking up almost no space, the MugMate is a good choice for backpackers and cyclists to make coffee when camping. Simply add a scoop of your favourite coffee and place the filter in the mug. The tabs at the top rest on the rim of the mug, as long as you don't have an extra wide mug. Then simply pour the boiling water over the coffee in the filter. Depending on your preference, you can allow the coffee to steep in the water (similar to French press) or pour it over.
The lid is not tight-fitting, so you can't store ground coffee in the filter. However, it can help keep the coffee or tea hot like an insulated French Press while steeping and you can use it as a drip tray afterwards.
This product is really good if you are making coffee for one or two people, and if you require an especially lightweight and compact coffee brewing option. Otherwise, you may be better off with a bigger coffee maker.
Mini Minit One-Cup Filter
These single-serving paper filters are another great option if there are only one or two coffee drinkers on your camping trip.
Features and Specifications
40 disposable paper filters per pack
Plastic stick for holding filter inside cup
This is the most cheapest form of making coffee while camping or backpacking. To use Mini Minit filters, add ground coffee to the filter, push the plastic stick through the holes, and suspend the filter inside your coffee mug. When you pour in the hot water, you can allow the grounds to steep for as long as you like. If you lose the stick, a chopstick or skewer will do just as well.
If you like, you can even fill the filters before you go camping, fold over the tops, and keep them fresh inside a ziplock bag. Some people even use them to make "teabags" with either loose tea or ground coffee, using a stapler to seal them.
There are a couple of minor disadvantages to Mini Minit filters. Some people really don't like the taste of the paper filter, and others prefer to save the environment by using only reusable filters like the MugMate. Also, you can end up with a big mess if the filter splits inside your cup!
On the whole though, Mini Minit filters make great coffee, take up very little space, and are easy to customize for each person's taste.
Farberware Stainless Steel Yosemite 8-Cup Coffee Percolator
This percolator is not marketed as camping gear, but at less than 20 dollars, it's more durable than a lot of the coffee pots designed for camping and can be titled as the Camping Coffee Maker Percolator..
Features and Specifications
Heavy-duty polished stainless steel
Clear plastic dome
Permanent filter base
8 cup capacity
Percolators are a bit out of fashion at the moment. But if you love the taste of percolated coffee, why not enjoy it every morning during your camping trip? For best results, use 2 tablespoons of coarse-ground coffee for every cup, start with cold water and let it percolate for about 5 to 7 minutes once it starts boiling. You'll be able to see how dark it is through the clear plastic dome.
One small problem with this (and every) percolator is that the dome on top can melt or break. Back in the 60s when percolators were standard in most American kitchens, people used to keep a couple of extra glass domes handy. They're still readily available and inexpensive.
AeroPress Coffee and Espresso Maker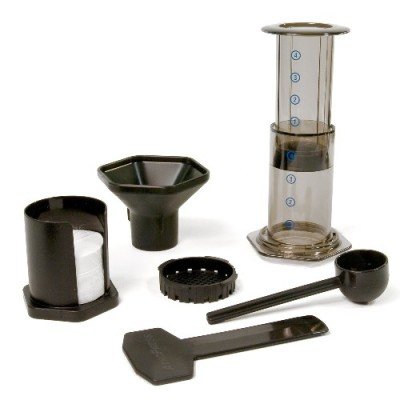 Espresso, latte or Americano? This might not be a question you associate with waking up in a tent, but with this Camping AeroPress, you can easily make your favorite morning drinks wherever you are.
Features and Specifications
Made of BPA-free plastic
Includes paper microfilters
Purchase includes AeroPress device, filters and holder, scoop, funnel, and stirring paddle. Aeropress produces a coffee that tastes similar to espresso, but with much less effort. You simply add the ground coffee, set it over a mug, and add hot water. After stirring for about ten seconds, slowly press down the plunger. You can drink the coffee as espresso, or add hot water or milk for an Americano or latte.
The grind is not critical; in fact, you should use something less fine than an espresso grind to avoid clogging the device. Moreover, the paper filter removes some of the volatile oils, so if you prefer to keep the flavor of the oils, look for a reusable mesh filter.
Aeropress is considered to be one of the best camping coffee maker by users because of it's convenience and portability.
EZE Hand Burr Coffee Grinder
If you're a hardcore coffee enthusiast who has to have freshly ground beans every time even on camping, you'll be happy to learn that you can continue your habit even in the wilderness!
Features and Specifications
Ceramic burr grinder
Adjustable grind at the turn of a knob
Stainless steel body
Compact and portable
AeroPress compatible
This coffee grinder is inexpensive, compact enough to take backpacking, quiet to use, and gives you complete control over how fine or coarse you grind your coffee. So, if you have an Camping AeroPress, just attach the grinder and grind your coffee directly into it. Some people have found that the plastic ring inside the grinder eventually breaks. The good news is that EZE has good customer service and also guarantees its products. Also, be aware that it takes a fair amount of elbow grease to grind coffee by hand, especially at the finer settings.
Hope you guys have liked the above list of Camping Coffee Maker and might have selected one for yourself. If you have another choice or suggestion, we would be pleased to hear that in our comments.
Summary
Article Name
Camping Coffee Maker Collection for Backpacking
Description
Read reviews about the top coffee makers used for backpacking.
Author
Publisher Name