The Gaggia Accademia Espresso Machine is a super automatic espresso and coffee maker that hails from the reputable line of Gaggia Coffee Machines. It promises to quickly deliver excellent espresso and other coffee drinks at simply a touch of the button, which has us quite intrigued! That is a coffee-lover's dream – to have great coffee without all the effort it takes to make a good cup.
Given the popularity and high standards of the Gaggia Company, naturally we have high expectations for this unit. Moreover, super automatics tend to be more expensive than other types of espresso machines, so we hope this unit is truly as special as its makers advertise and worth spending that much money. It has pre programmed drinks that can be made with just a push of a button; espresso, caffe, caffe lungo, cappuccino, latte, Latte macchiato and hot water.
We have put the Gaggia Accademia to the test, and here are the results.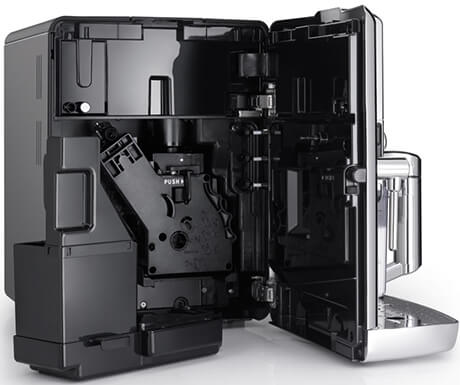 FEATURES
Stainless steel body
15 bar pump
Digital display
One-touch selection from any of 7 pre-programmed coffee beverage options
Programmable Coffee Quamtity from 7 to 10 cups
Double boiler for simultaneous espresso pulling and milk frothing to instantly produce milk-based coffee drinks
Ceramic burr grinder that can be adjusted from coarse to fine
Burr Grinder with Integrated Bean Hopper and Double Lid to prevent escape of aroma
Built-in container for coffee grounds that is removable from rear
Integrated cup warmer for pre-warming your espresso cup
Adjustable espresso length
1.6 liter water reservoir
Steaming wand that doubles as a hot water dispenser
Automatic cleaning and descaling
Removable brewing group for easy maintenance
Energy saving automatic standby feature
Dimensions: 15.2 x 11 x 16.8 inches
Weight: 45 pounds
PROS
It's a beautifully built machine that is sturdy and durable. Once opening the box you can already see that a lot of quality effort was put into creating this machine.
Easy to use in an understatement! Simply push a button and it will deliver fantastic coffee. It's that easy! It requires absolutely no skill or know-how for you to get high-quality coffee beverages from this machine. It will produce rich, flavorful espresso with thick tasty crema on top.
It has many coffee beverage options and gives you a lot of control over how you'd like to have your coffee. Espresso, cappuccino, latte, americano, or simply a nice dark brew, this machine can do it all! It is easy to adjust the settings cup-by-cup to achieve whatever coffee beverage you desire. The machine can also memorize your preferences.
Cleaning takes little to no effort, since this machine has a self-cleaning function that will flush and descale itself whenever needed. The drip tray and brew units are easily removable for when you have to wash them.
You wont have to spend additional money on add-ons such as a tamper, grinder or water filter, because this machine already has all those functions built in. Most notable is the high quality ceramic burr grinder that it ships with. You can also use pre-ground coffee with this also, if that is your preference.
The auto-frother delivers smooth silky microfoam and instantly combines it with an espresso shot to make your cappuccinos, lattes, and such. You can also use the steam wand to manually steam your milk if that is your preference.
The sleek digital display makes it easy to choose how you'd like to have your coffee. This is an admirable modern touch.
It can accommodate various sizes of cups and glasses. From tiny espresso cups to large coffee mugs or your travel canister. This is a refreshing change from many other coffee machines that only have space for a very small cup.
It heats up quickly, so you wont have long to wait before it starts churning out awesome coffee!
CONS
It is very expensive, with a price tag of US$1800 or more, depending on the vendor. That is expected however, since super automatics are usually very pricey.
The milk coming from the auto frother is not piping hot as it should be. To get super hot milk, you'd have to manually heat it using the steam wand. This inconvenience is not expected of such a pricey super automatic espresso machine. A true super automatic shouldn't require you to manually steam your milk to get it very hot.
The interior drip tray is quite small. It fills up very quickly, sometimes after making only 3 rounds of coffee. You will find that you have to remove and empty it very often.
The catchment for the coffee residue is also too small. You'll have to dump the grounds quite frequently too.
The water reservoir is not really very big. You may find yourself having to refill it more often than you'd like.
CONCLUSION
The Gaggia Accademia Espresso Machine is sleek in design, super easy to use, and consistent in producing many excellent coffee beverages with just the push of a button.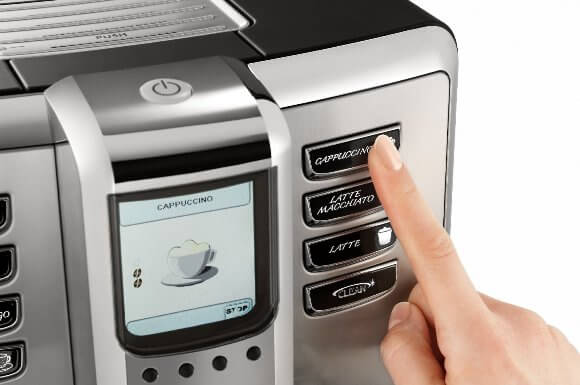 The price might be high, but it makes up for that by consistently delivering a high-quality espresso and coffee that makes it all worth the investment. It does have one major fault, with the milk being warm rather than hot, but otherwise this machine makes excellent coffee drinks for you, your family and friends.
The Gaggia Accademia totally lives up to its reputation as an easy-to-use espresso machine that will deliver fantastic espresso in a short time. We recommend this machine unreservedly and do hope you invite us over for a cup when you get one of your own!
RATING
We rate the Gaggia Accademia Espresso machine an impressive 4.5 out of 5 stars! It only lost 0.5 points mainly because of the issue with the auto frother giving warm, rather than hot milk, otherwise we would have given it a perfect rating!
Do also consider looking for another great product from the same brand; it's Gaggia Classic Coffee Machine which is cost worthy and great for your kitchen platform.
Do you plan on purchasing a Gaggia Accademia coffee machine? Or are you a long-time owner? Do share your experience with this impressive unit and leave your comments below. We want to hear from you!
Summary
Reviewer
Review Date
Reviewed Item
Gaggia 1003380 Accademia Espresso Machine
Author Rating