Now days, with lot of hurdle and many options, it's getting pretty tough to pick the best one and the same also relates to picking the Best French Press Coffee Maker. For coffee lovers, press pot brewing is one of the simplest and quickest ways to get an excellent cup of coffee. The design is so straightforward and low-tech, the differences between different French Presses can be subtle.
Maybe most of what makes one of these coffee makers good or bad comes down to personal preference and so, picking the best should not be that tough but still there are numerous options. Hence to ease, we have compiled a list of Top rated French Presses that have already done exceptionally well in the market and are preferred by many Coffee Connoisseurs.
French Press method is praised for coffee brewing because it doesn't filters out the essential oils from coffee grounds which is a drawback in other brewing methods. As a result, the coffee brewed in a French Press has a bold flavor, full bodied and pure.
Many people prefer some materials over others, often for aesthetic reasons. Some people favor a glass carafe both for the look and for the ability to see the color of the coffee as it brews – a useful indicator of when the coffee is ready. While stainless steel press looks great in some kitchens, it also allows for a double wall vacuum insulated pot to keep coffee warm.Furthermore, Ceramic Coffee Press gives you a lot of color options and does a better job of keeping coffee hot than glass.
French Press Coffee often includes a fair amount of sediment. For some people this is a major drawback while for others it actually contributes to the flavor of the brew.
Because "good" and "bad" so often come down to individual preference, there is no overall winner in this list of Best French Press, rather we sorted the list of the Best French Press Maker in our preference as we liked them. While all of these French press coffee makers brew excellent coffee, each has something special to recommend it in terms of design, function or value for money. Enjoy!
12 Best French Press Coffee Maker Picks
#1 

Kona French
Press Coffee, Tea and Espresso Maker
The glass beaker of the Kona is well protected by the plastic frame, which has a funky, modern design. Most Noteworthy is the glass, which is extra-thick borosilicate that makes it thermal shock resistant adding durability, and the plunger and mesh are made of stainless steel. It brews much as the same quality of coffee as other glass French press pots; what sets this one apart is the ergonomic durable design. The plastic wrap surrounded minimizes chips and cracks to our borosilicate glass pot and even it protects the carafe from accidental slips and falls to much extent.
It brews 12 or 34 ounces of coffee, and is dishwasher safe. The Coffee Press has a 3 piece filtration system which is easily separable for deep cleaning and the users have just loved the easily cleanable system. Finally, all of this makes this French Press at the TOP of the list.
The Kona is available in two different sizes, and in either red or black. It can both be used for coffee brewing and also the loose tea. Also all plastic parts are BPA-free. Additionally, the package also includes a handy measuring scoop which is again a plus. There is absolutely no doubt to say that it is all in all one of the Best Selling Product by Amazon and is also recommended by many other coffee snobs. Gift it to your mom-dad or whoever loves coffee, it's a perfect selection.
Size Options: 12 oz, 34 oz
Colors Options: Black, Red
With its mirror-finish stainless steel exterior and sleek shape, this coffee pot will look great in any kitchen. The tight-fitting plunger and double screen filter means NO GROUNDS will make their way into your coffee mug, and that's a guarantee by Sterling.
Here is how the process goes. The first screen captures the coarser grinds while the second one catches the finer. The deep lid design helps keep the coffee hot, and houses additional filtration at the spout area. The SterlingPro is double-wall insulated to keep coffee hot for longer and also prevents heat from escaping while brewing. The outside of the pot stays cool to protect your hands when pouring. The gap between handle and pot is perfect so that one doesn't gets his hands burned while brewing. Being of metal, it can survive longer than any other made of glass and can stay intact in falls or thermal shocks.
The SterlingPro is dishwasher safe and is very easy to clean. All parts are made of high quality stainless steel, and will keep your coffee hot for hours. The Sterling Pro is a Once Bought French Press which will always be there in your kitchen until you want. Currently, the brand is offering 2 Bonus Stainless Steel Screens worth $25 and is in limited quantity. With it's durability and features, it can easily be titled as one of the best french press coffee maker in the market that is loved by every buyer.
Size Options: 1L, 1.5L
Color Options: Stainless Steel
If you like the glass beaker style of press pot, you can't do better than the economical Bodum Brazil. With a borosilicate glass beaker and BPA-free plastic base and handle, the Brazil has a fun, modern design and comes in a two sizes and variety of colors. The sizes are either 8 cup or 3 cup and one can choose between Green, Black, Red and White color.
The raised Bodum Logo looks bold and attractive and the number of colors are actually there to suit your personality. The stainless steel mesh and plunger do a decent job of keeping grounds out of your mug. The lid seals well to keep the heat in keeping the coffee hot for a while. There is a protective safety lid to prevent splashing of hot water. This inexpensive model makes great French press coffee, sits at No.3 in our Top French Press Coffee Maker list and offers great value for money. All parts of the Brazil are dishwasher safe.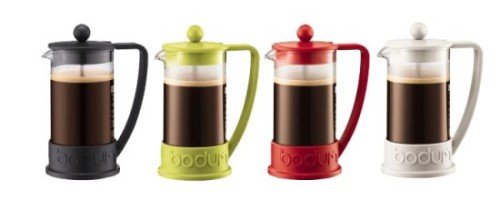 Users have reported that Bodum Brazil is not that durable but still the design makes it unique and also it makes a full bodied cup of coffee. For a little amount for this French Press, the durability part can lag behind.
Size Options: 12oz, 34 oz
Color Options: Black, Red, Green, White and Gray (Rarely Available)
The combination of a sleek, minimalist design and a brushed stainless steel finish make this a particularly attractive looking item. It is an all metal product with no plastic parts and hence it's naturally BPA Free. This one is best suited to coffee lovers who don't mind a bit of texture with their coffee: the filter isn't particularly tight when tipped for pouring, and there is no strainer at the spout. Cleanup is easy with this model, as the smooth surfaces don't trap the grounds. With metal body, the French Press is devoid of delicacy and there is no danger of any chips or cracks like the one's with boro silicate body.
The Frieling French press is available in a range of sizes to suit your drinking size . Also, it is available in four different body textures. It's dishwasher safe and insulated to keep coffee hot for hours (4-5 hour usually).
Like Sterling Pro, it is also made to last longer and is a once bought product for your kitchen. It's costly than the others but the cost is not recurring as other glass material French Presses are.
Size Options: 8oz, 17 oz, 23 oz, 36 oz and 44oz
Color Options:  Brushed, Polished, Frustration Free Brushed and Frustration Free Polished

With its sleek chrome frame and borosilicate glass beaker, the Madrid has a striking modern design. In addition to the primary stainless steel filter, there is another filter at the lid, so you will never have to worry about stray coarse grounds in your cup, although fine grounds can still pass. Also turning the lid to close the spout will retain your coffee hot. The coffee remains hot for an hour which is an awesome thing for any glass French Press.  The main filter is sturdy and barely has any play and so pressing the filter is a breeze. The bottom of the coffee press is made in shape to reduce the number of grounds in your cup.
The glass beaker is easy to remove for cleaning or replacing in the case of breakage. The manufacturer recommends using a coarse grind for this press pot. Replacement parts of Grosche Madrid are easily available on Amazon.
(Note by Brand: The Purchase of this product will create 5 days of safe drinking water for someone in need through the GROSCHE SAFE WATER PROJECT )
Size Options: 11.8 oz, 34 oz and 51 oz
Color Options: Single Glass
#6 

Bodum Columbia French Press Coffee Maker, Double Wall

 
This stainless steel pot is insulated with a double wall, making it a good choice if you want to be able to keep coffee hot after brewing it. It'a quiet costly than the others, but it's worth the money. The handle has a good ergonomic design and the pot is durable, well made. The plunger, made of mesh and silicone, reduces sediment by effectively filtering the coffee, and is guaranteed not to scratch the inside surface of the pot.

The Bodum Columbia is dishwasher safe for easy clean-up. The double wall system keeps the coffee hot for up to 2 hours. The twist shut lid also prevents coffee from splashing while brewing. The package includes a measuring spoon as well, so you don't have to buy one.
Size Options: 12oz, 17oz, 34 oz and 51oz
Color Options: Shiny Metal
If you like the simplicity of French press but prefer the flavor of filtered coffee, this may be a good choice for you. The Espro Press stands at #7 in our Best French Press selection. With it's patent-pending filters, the coffee is filtered twice and there is no grit left for your cup. This Espro Press prevents the sediments that is usually a feature of press pot coffee. The vacuum insulated double wall design doesn't lets heat escape during brewing process and keeps coffee hot for longer spans. There is a buffer between the two filters which helps prevent over-extraction.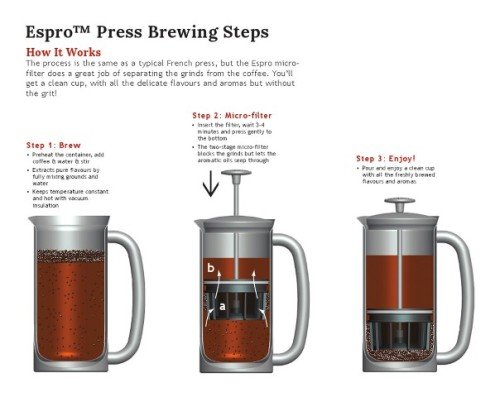 Though it's a uniquely designed product and has features that other Presses don't have, it also has some flip downs. The silicone ring around the filter makes it a bit harder to press down than some other pots, and the double filter is not quite as easy to clean as a simpler design. The manufacturer recommends hand washing with a bottle brush or using the only top rack of your dishwasher.
Size Options: 8oz, 18 oz and 32oz
Color Options: Stainless Steel and Brushed Steel
This press pot and travel mug combined is perfect for people who like to head for the office almost as soon as they wake up. You simply drink the coffee from the same vessel you brew it in. The insulated travel mug is made of stainless steel and plastic, and the silicone and mesh filter ensures that the coffee doesn't continues to brew while you are drinking. The lid has built in plunger and is spill proof.

The Travel Coffee Press makes 15 ounces of coffee and keeps it hot for a few hours. Additionally, the double wall body and vacuum sealed lid retains your coffee hot. The non-slip grip is available in 4 bold colors.  It is fully dishwasher safe. The price is very feasible as it comes from one of the reputed brands, Bodum.
Size Options: 15oz
Color Options: Black, White, Orange, Green, Purple and Gray
On the 9th position of Best French Press Coffee Maker list, we have Bodum Chambord. This is a classic press pot that makes excellent, rich, French press-style coffee. It is this design that made Bodum famous in the 1980s and it hasn't changed much since. Made entirely of glass and stainless steel, it doesn't interfere with the flavor of the coffee in any way. Using it is simple and cleaning up is a breeze. The glass pot is not insulated, so this is a good choice only if you plan to serve the coffee as soon as it is brewed. The borosilicate glass used is durable and is heat resistant and can easily absorb the thermal shocks.
The Bodum Chambord has received the American Culinary Institute's award for Best French press coffee maker in 2004 and is still praised for it's perfectly tasting cup of coffee. All parts of Chambord Coffee Press are dishwasher safe.
Size Options: 12 oz, 17 oz, 34 oz and 51 oz
Color Options: Transparent
At number 10, we have the Ceramic French Press. The clean lines and white colour of this ceramic press pot give it a simple, understated style. It has a stainless steel mesh and plunger with a plastic lid and a rubber base to help it rest securely on your table or countertop. The mesh keeps stray grounds out of your coffee while letting through the essential oils and flavors that are characteristic of French press coffee.
This Ceramic French Press coffee maker will make up to 36 ounces of coffee. The solid ceramic does a better job of keeping the coffee hot than the usual glass beaker design. All parts are dishwasher safe.
Size Options: 36 oz
Color Options: White
Next in the list of Best French Press Coffee Maker is the FORLIFE Press. This pot is available in a wide variety of colors to suit any décor. It has a simple but not ultra-modern shape. The carafe is made of high-fired ceramic while the plunger is stainless steel and silicone. And a silicone ring on the bottom of the pot protects your table from the heat and keeps the pot from slipping around. The filter and plunger design keep the grounds where they belong, though it's unfortunate that this model doesn't include a strainer at the spout.
The FORLIFE coffee/tea press makes up to 32 ounces of coffee, and is dishwasher safe. It will keep coffee hot for about an hour. In conclusion, what makes this French Press unique is the rubber base and an array of colors which are not available with any.
Size Options: 32 oz
Color Options: Black, White, Blue, Red, Gray, Lime, Purple, Carrot, Turquoise, Ivy and Mandarin
Le Creuset is a very popular line of premium cookware, and if you're a fan, you will be glad to know that they also make a French press coffee pot. The pot is enamel glazed stoneware and the plunger and mesh are both stainless steel. The mesh filter does a good job of keeping grounds out of the brewed coffee. Just be careful not to overfill this pot. Seems like it can hold more than 27 ounces, but you have to stop filling before the water reaches the spout level.
The Le Creuset French press pot is dishwasher safe and the stoneware keeps coffee hot longer than glass pots, though not as long as double insulated stainless steel pots. The material is durable but it will break on fall. Like the ForLife Press, this product is also available in a range of colors to suit your taste or kitchen. Match it with your walls and it will look fantastic.
Size Options: 27 oz
Color Options: Black, White, Cherry, Palm, Flame, Caribbean , Truffle, Hibiscus, Soleil, Blue
Update: 27 May 2016– We have added one more awesome product to our French Press Coffee Maker list that eases the coffee brewing to more perfection. It's called Precision Press by KitchenAid.
#13
KitchenAid Precision Press
This product integrates a timer and a scale to create less fuzz around and will help you make the coffee easy and fast with only one gadget. It also displays the temperature of brewed coffee. Additionally, it is constructed by dual wall stainless steel, this press maintains temperature for longer time span. With a simple push of button, the timer starts and stops. To reset, just push the timer button for 2-3 seconds. The scale option tells weight in both grams or ounces so it's pretty easy to use the perfect quantity of ingredients. This product is revolutionary and is getting adapted by many coffee snobs.
Furthermore on the inside, the Precision Press has a mesh filter lined with rubber gasket to reduce the number of grounds in the cup. Though it takes a little harder to push the filter in the brewing process. Overall, it's a good and innovative product to make your coffee more precisely without much guess work.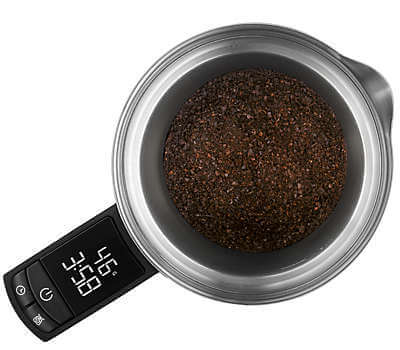 Conclusion
Finally, we hope you guys have enjoyed reading the above and have found the Best French Press Coffee Maker for your kitchen. In Addition, if you are looking for a Stainless Steel Insulated French Press, visit our the top picks. The best companion of a French Press is an electric kettle and you can find the best Electric Kettle from our list already sorted with top selections.
If there are any more suggestions or recommendations, please feel free to leave a comment here.