The most important part of Coffee Making that determines the raw material is Grinding. Choose a grinder among the best rated ones that gives the perfect grind every time you make a cup of coffee.
Best Espresso Machines
Espresso Machine makes coffee by forcing pressurized water near boiling point through a puck of grounded coffee resulting in a thick concentrated drink called Espresso with a layer on top called Crema.
Coffee Beans are Raw Material to any coffee making process. These are basically divided in two categories, Arabica and Robusta and then subdivided to Acidity, Aroma, Body, Roast, Balance and Finish.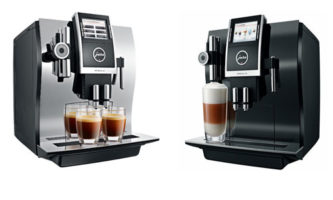 Introduction to Jura Impressa Z9 With Roombas, self-driving cars and even more "robot servants" on the horizon, it seems like we're finally entering the future we were all promised back in the days of the original Star Trek and the Jetsons. For coffee lovers, a super-automatic espresso machine is like having your very own robot barista that knows exactly how you like your coffee and makes it perfectly every time. The Jura Impressa Z9 is the most luxurious of these machines. It takes you from…